Wholemeal sourdough bruschetta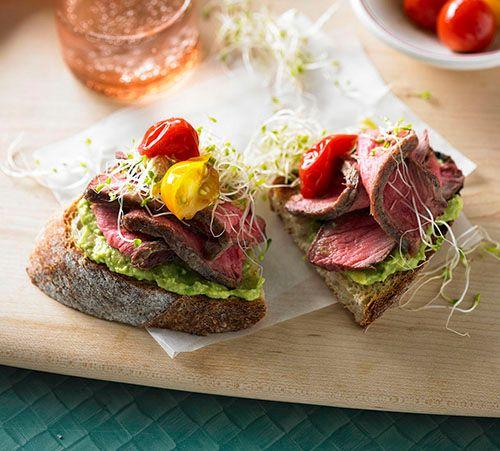 Wholemeal sourdough bruschetta
Ingredients
2 x 200g Sirloin steaks, fat trimmed
½ Avocado, mashed
250g Cherry tomatoes
200g Alfalfa sprouts
4 slices Wholemeal sourdough, if available
2 tbsp Olive oil
1 tsp Honey
1 tbsp Balsamic vinegar
1 Garlic clove, chopped
Method
Brush the bread slices with olive oil. Place them under a hot grill for 1 minute each side until toasted.
Heat a frying pan. Brush the steaks with olive oil and cook on one side until moisture appears, then turn and cook the other side. Test the degree of doneness by touching the meat - it will feel springy for medium and very firm for well done. Remove from heat and allow to rest, loosely covered with aluminium foil.
Add 1 tsp olive oil to another frypan and heat; add the cherry tomatoes, honey, garlic, balsamic vinegar and pepper. Saut until the skin of the tomatoes starts to break. Keep juice for seasoning at the end.
Place a slice of toast on each plate, spread with avocado, top with meat slices and cherry tomatoes. To serve, add the Alfalfa sprouts and drizzle with juice from tomatoes.
Tips
For this recipe you could use any type of leftover meat, even what left from a roast. Simply heat and cut into thin slices then serve.