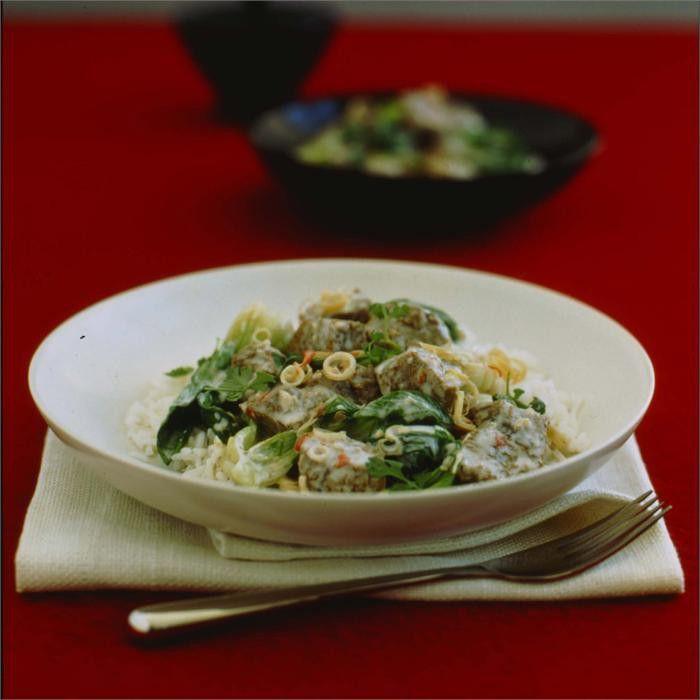 Ingredients
500 g chuck or boneless shin/gravy beef
2 tbsp green curry paste
3 cm piece ginger, peeled and grated
1 stalk lemongrass, white only finely sliced
400 ml can coconut milk
0.75 cup beef stock
2 tsp brown sugar
3 baby bok choy, leaves separated steamed rice and coriander leaves to serve
Method
Cut beef into 2.5cm-3cm cubes. Season the beef with salt and pepper, add a little oil, and mix well. Heat a large heavy-based pan over a medium-high heat. Brown the beef in 2 or 3 batches. Remove each batch and set aside.
Add the curry paste, ginger and lemon grass to the pan and heat until fragrant. Pour in the coconut milk and stock, add sugar. Bring to the boil, and then reduce heat to simmering point.
Return the beef to the pan, simmer partially covered for about 2 hours or until beef is tender. Check that the dish simmers gently during the cooking time. Stir occasionally and adjust the heat if needed. Add a little water if needed. Add the bok choy 2 minutes before serving. Serve with steamed rice and sprinkle with coriander leaves.
Tips
Don't rush the initial stage of browning the meat. This will make this dish rich in colour and flavour. Brown the meat in small batches over a medium-high heat.
Simmer the casserole gently and taste it to see if it's ready. Stir occasionally and adjust the heat as it cooks if needed. When it's done the meat should be tender enough to fall apart easily with a fork.
A casserole will keep for up to 2 to 3 days in the refrigerator. Casseroles should be refrigerated immediately after the steam from cooking has evaporated. Place the hot casserole into a shallow container in the fridge so it cools quickly. Do not leave it to cool completely on the bench. To serve bring it slowly to the boil over a medium heat, reduce heat and simmer for about 3 minutes, or until the meat and sauce are both thoroughly hot.
Best beef cuts for stewing or casseroling: Chuck or Boneless shin/Gravy beef (these cuts take 2-2½ hours to cook). Topside, Round and Blade take 1-1½ hours to cook.