Teriyaki beef kebabs & spinach rice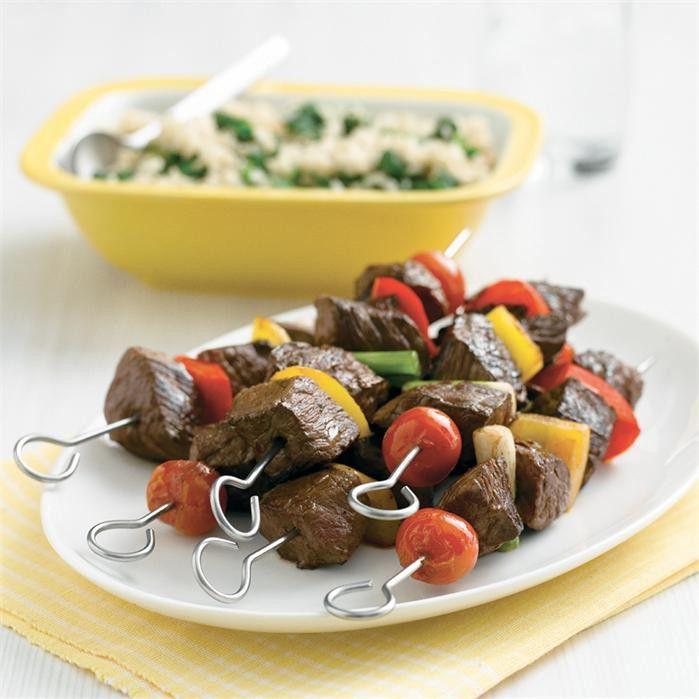 Teriyaki beef kebabs & spinach rice
Ingredients
1 kg beef steak, cut into cubes (trimmed of fat)
0.5 cup teriyaki marinade
sliced vegetables (eg shallots and capsicum), cut to same width as beef cubes
2 cup steamed brown rice
250 g frozen English spinach, thawed and heated
2 bunches of asparagus
6 skewers (soaked if wooden)
Method
Cut steak into cubes. Place in bowl with marinade and toss to combine.
Thread beef cubes onto skewers, alternating with the sliced vegetable pieces. Heat grill or BBQ to hot and cook skewers for 10 mins turning occasionally to evenly cook.
Steam the brown rice and combine with hot spinach. Serve kebabs with rice and asparagus.
Tips
Lunch idea: Serves: 2 Prep: 5 mins
Soak 200g shelf-fresh Singapore noodles in boiling water for 2 mins. Drain.
Slice the leftover beef cubes, shallots, capsicum and asparagus into bite-size pieces and toss together with noodles and 1 thinly sliced carrot.
Combine 2 tbsp sweet chilli sauce with 1 tbsp lemon juice and 1 tbsp soy sauce.
Drizzle over beef noodle mix.