Tagliatelle with sausage, roasted tomato and pesto sauce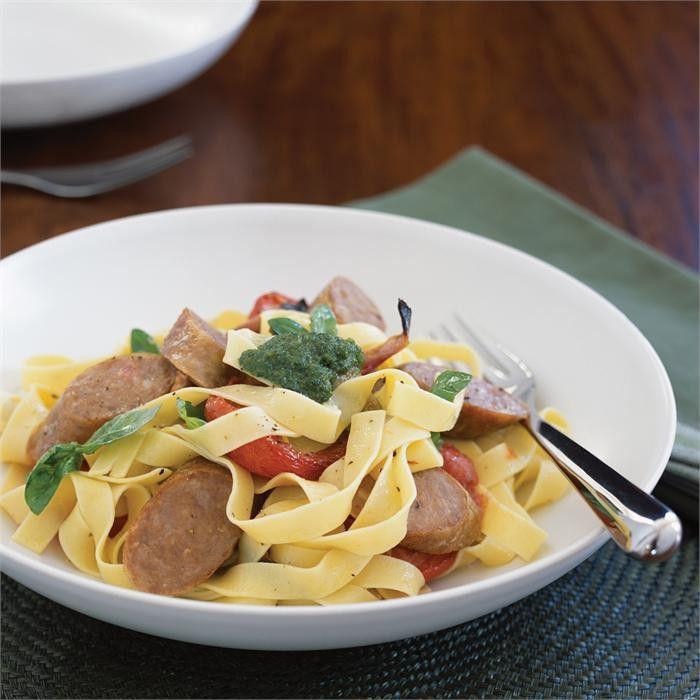 Tagliatelle with sausage, roasted tomato and pesto sauce
Ingredients
6 thick beef sausages
750 g Roma tomatoes, halved lengthways
1 red onion, cut into thin wedges
2 tbsp extra virgin olive oil
2 tbsp lemon juice
400 g tagliatelle
4 tbsp basil pesto
Method
Preheat the oven to 160ºC. Place the tomatoes in a roasting dish lined with non-stick baking paper. Scatter the onion, over the top of the tomatoes and drizzle with the oil, season with salt and pepper. Roast for 1½ hours or until tomatoes are very soft. Remove from the oven and drizzle with the lemon juice.
Cook the tagliatelle until just tender and drain. While the tagliatelle is cooking, preheat the grill or pan and either grill or pan-fry the sausages over a moderate heat until browned and cooked.
To serve toss the tomato mixture, the tagliatelle and the sausage pieces together and place into warm pasta bowl. Top with a spoonful of basil pesto.
Tips
Don't pierce sausages before or during cooking. If you prick good quality sausages you let all the moisture and the flavour out.
Cook sausages slowly over a moderate heat. If you cook them too fast over a higher heat the skins may burst. Cooking them slowly and turning them regularly helps them brown well all over.
Simmering sausages in water before barbecuing them will keep them moist and helps them cook right through on the high heat of the barbecue, (this is a good tip for fatter style sausages).