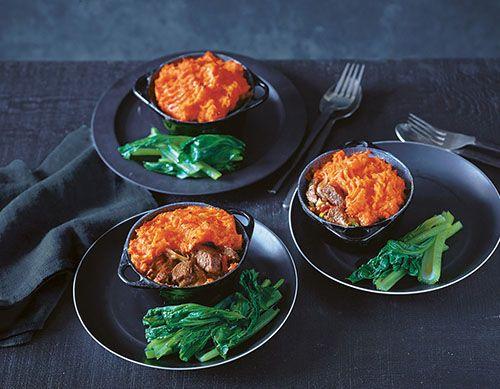 Ingredients
800g Beef chuck, trimmed of fat, 2.5cm diced
1 tsp Sunflower oil
1 tbsp Szechuan peppercorns (or black peppercorns)
2 Onions, cut into wedges
2 Carrots, chopped on the diagonal
2 Cups parsnip, peeled and diced
2 Cloves garlic, sliced
1 Long red chilli, finely chopped
1 tbsp Soy sauce
1 tbsp Toasted sesame paste (or tahini)
500ml Salt reduced beef stock
2 heaped tsps Cornflour
2 Spring onions, sliced
Sweet potato topping
500g Sweet potato
1 tsp Finely grated ginger
4 Steamed choy sum (or similar Asian green), to serve
Method
Drizzle beef with sunflower oil in a bowl and toss to coat. Toast Szechuan peppercorns in a small frying pan until fragrant, do not burn. Tip into a mortar and pestle and grind to a fine powder.
Place a large cast iron casserole dish or wok over medium high heat. Brown beef in 2-3 batches, add ground peppercorns, onions, carrots, parsnip, garlic, chilli, soy, sesame paste and stock and bring to the boil. Cover and simmer for 1 hour 15 minutes or until beef is tender.
Mix a few tablespoons of the cooking liquid with the cornflour to a smooth paste and stir into mixture. Cook for 5-10 minutes until mixture thickens. Add spring onions.
Meanwhile steam sweet potato and mash with ginger. Preheat oven to 200oC. Divide pie filling between 4 x 1 cup-capacity ramekins and top with sweet potato topping.
Bake pies for 15 minutes or until golden and serve with steamed greens.
Tips
Szechuan peppercorns are available from Asian grocers or the Asian section in supermarkets. If you don't have a mortar and pestle to crush the peppercorns you can place them in a zip lock bag and whack them with a rolling pin.
If you don't have toasted sesame paste or tahini substitute 1 teaspoon sesame oil mixed with 1 teaspoon peanut butter.
Make one large pie by using a 4-cup capacity baking dish or 8-9 inch pie plate.
Save time and use lean beef mince instead of chuck. Reduce the cooking time to 30 minutes and only use half the stock.