Steak with avocado salsa and oregano tomatoes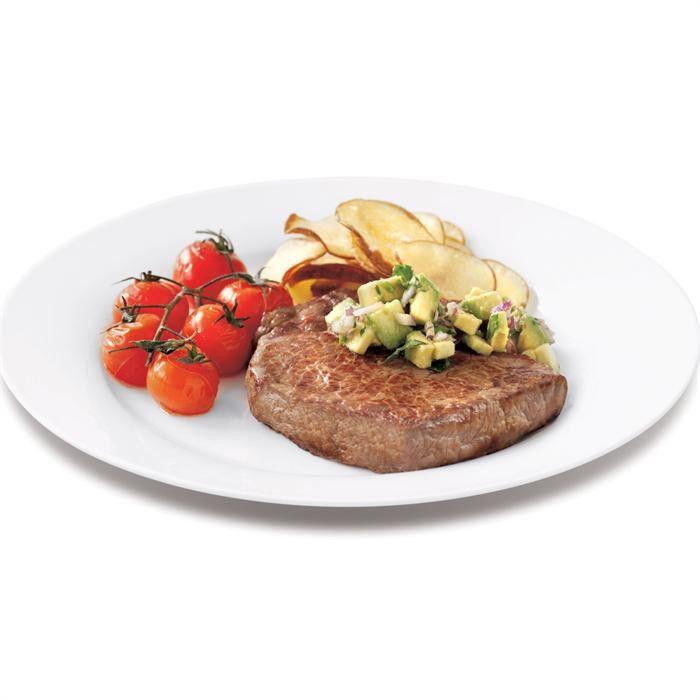 Steak with avocado salsa and oregano tomatoes
Ingredients
4 x 200g rib eye/scotch fillet steaks
2 Desiree potatoes, sliced thinly
3 -4 baby tomatoes on the truss per person (or use cherry tomatoes)
2 tbsp fresh oregano leaves
2 tbsp olive oil
Avocado salsa
1 avocado, peeled and finely diced
1 red onion, peeled and finely diced
0.5 cup roughly chopped parsley
juice from half a lemon
1 tbsp olive oil
Method
Brush each sirloin steak lightly with oil. Season with salt and pepper. Preheat the oven to 200?C. Place the potato slices on a baking tray lined with baking paper. Season and drizzle with a little oil. Bake in the oven 15 minutes or until brown and crispy on the edges.
15 minutes or until brown and crispy on the edges. Place tomatoes on a baking tray, sprinkle with oregano, season and drizzle with the olive oil and bake for the last 3 minutes in the oven with the potato.
Preheat the char-grill pan to hot before adding the meat. Cook on one side until the first sign of moisture appears. Turn steaks once only. Test the steaks for degree of doneness with tongs. Rare is soft, medium feels springy and well done is very firm.
Remove steaks from heat, loosely cover with foil and rest steaks for 2 minutes before serving. Serve the steaks with potatoes, tomatoes and the salsa.
To make Avocado salsa: combine all ingredients.
Tips
You can also barbecue the steaks for this recipe, use either the char-grill plate or flat-plate. They can also be pan-fried or grilled.
Best beef cuts for char-grilling: fillet/tenderloin, rib eye/scotch fillet, sirloin/porterhouse/New York, T-bone, rump, round and blade, oyster blade.