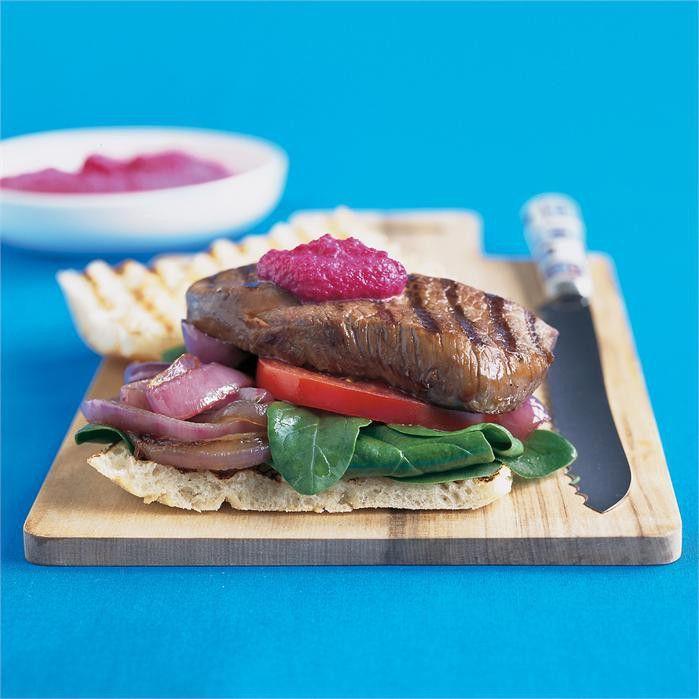 Ingredients
4 lean sirloin steaks (600g)
1 tbsp olive oil
1 red onion, sliced
8 slices of sourdough bread, toasted
1 cup baby spinach leaves
2 tomatoes, sliced
0.5 avocado, sliced
0.33 cup beetroot dip
salad vegetables including alfalfa sprouts, celery, cucumber and mixed salad greens with oil-free dressing to serve
Method
Brush each sirloin steak lightly with oil. Preheat the char-grill pan to hot before adding the meat.
Cook on one side until the first sign of moisture appears. Turn steaks once only. Test the steaks for degree of doneness with tongs. Rare is soft, medium feels springy and well done is very firm.
Remove steaks from heat, loosely cover with foil and rest steaks for 2 minutes before serving.
While steaks rest cook onion in a non-stick pan until soft and golden. Using the toasted sourdough bread make sandwiches with the baby spinach, tomato, avocado, steaks, cooked onion and beetroot dip.
Serve steak sandwich with salad vegetables including alfalfa sprouts, celery, cucumber and mixed salad greens with oil-free dressing.
Tips
Always rest meat after cooking. This gives the juices in the meat a chance to redistribute, giving a moister and more tender result. Transfer the meat to a plate and loosely cover with foil, stand the meat to rest in a warm place.
Best beef cuts for char-grilling: fillet/tenderloin, rib eye/scotch fillet, sirloin/porterhouse/New York, T-bone, rump, round and blade, oyster blade.