Sirloin steak with Mediterranean vegetables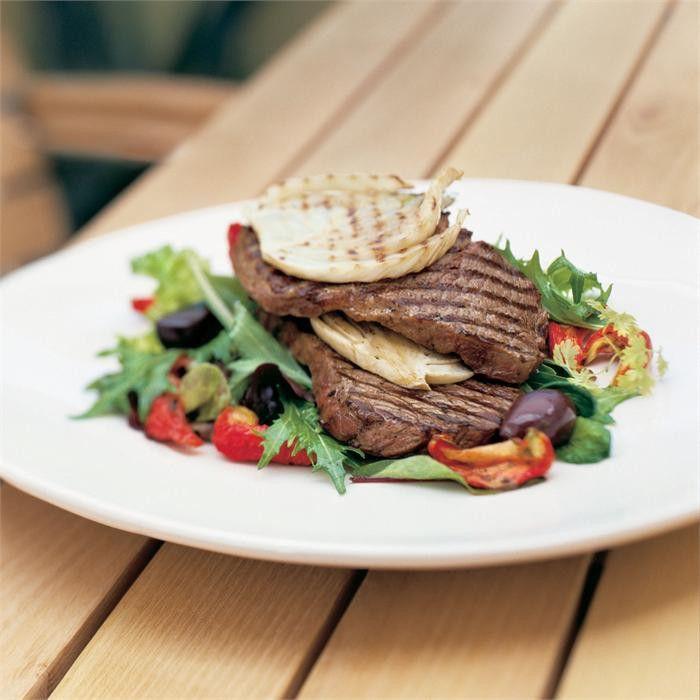 Sirloin steak with Mediterranean vegetables
Ingredients
8 x 100g slices of sirloin steak
1 large fennel bulb, sliced
200 g assorted salad leaves
0.5 cup olives
150 g semi sundried tomatoes (no-oil)
Dressing
2 tbsp creamed horseradish
0.5 cup low-fat plain yoghurt
1 tbsp chives, chopped
Method
Brush each sirloin steak and the fennel slices lightly with a little oil. Season with salt and pepper. Preheat the char-grill pan to hot before adding the meat.
Cook steaks on one side until the first sign of moisture appears. Turn steaks once only. Test the steaks for degree of doneness with tongs. Rare is soft, medium feels springy and well done is very firm.
Remove steaks from heat, loosely cover with foil and rest steaks for 2 minutes before serving. Reheat pan and cook fennel slices, set aside.
Toss together the salad leaves, olives, tomatoes and fennel. To serve place a steak on the plate and top with salad and dressing; then repeat to create a stacking effect (2 x 100grams steak = one dinner serve).
To make dressing: mix together all ingredients.
Tips
Zucchini, mushrooms or capsicum can be used in place of fennel.
Always rest meat after cooking. This gives the juices in the meat a chance to redistribute, giving a moister and more tender result. Transfer the meat to a plate and loosely cover with foil, stand the meat to rest in a warm place.
Best beef cuts for barbecuing and char-grilling: fillet/tenderloin, rib eye/scotch fillet, sirloin/porterhouse/New York, T-bone, rump, round and blade, oyster blade.