Scotch fillet steaks with a simple dried oregano and cumin seed rub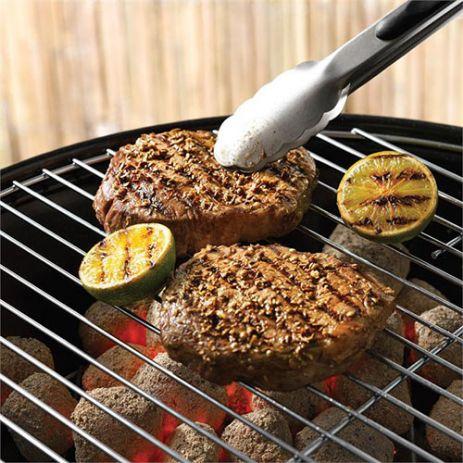 Scotch fillet steaks with a simple dried oregano and cumin seed rub
Ingredients
4 scotch fillet steaks
1 tbsp dried oregano leaves
2 tsp cumin seeds
juice of one lemon or lime
salad to serve
Method
Brush the beef steaks lightly with oil. Season with a little sea salt and freshly ground pepper, then rub the combined oregano and cumin over the steaks. Preheat the barbecue to hot before adding the steaks.
Cook the steaks on one side until the first sign of moisture appears. Turn steaks once only. Test the steaks for degree of doneness with tongs. Rare is soft, medium feels springy and well done is very firm. Brush the steaks with a little lemon or lime juice to prevent the herb and spice rub burning as the steaks cook.
Remove steaks from the heat, loosely cover with foil and allow to rest for 2 to 4 minutes before serving. Serve the steaks with a salad.
Tips
Scotch fillet steak is sometimes called boneless rib eye or rib fillet. This steak is one of the most popular steaks. It's juicy, tender and full of flavour.
Best beef cuts for barbecuing: fillet/tenderloin, rib eye/scotch fillet, sirloin/porterhouse/New York, T-bone, and rump.
Only buy steaks of an even thickness to ensure they cook evenly.