Roasted beef rib eye seasoned with italian herbs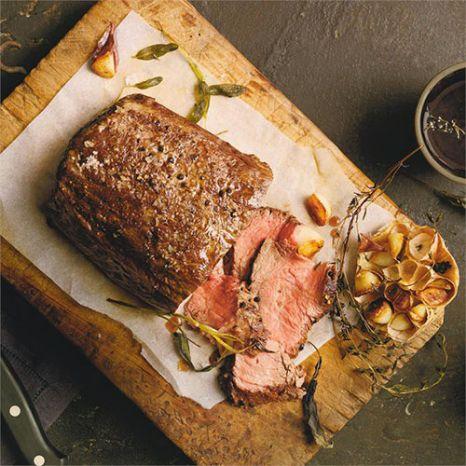 Roasted beef rib eye seasoned with italian herbs
Ingredients
1.5 kg piece rib eye/scotch fillet
2 tbsp Italian dried herb mix (or your favourite herb mix, or chopped dried rosemary)
Method
Preheat oven to 200ºC. If you have time, tie the beef with individual pieces of string at 5cm intervals (you can also get your butcher to do this). Brush the beef roast lightly with oil and sear it on all sides over a moderately-high heat until evenly browned.
Season the beef with pepper and salt and rub the herb mix over it.
Place the beef on a rack in a roasting dish. Add a little water to the roasting dish (about ½ cup). Roast for 60 minutes for rare, 75 minutes for medium and 90 minutes for well done. For ease and accuracy use a meat thermometer.
Remove the beef roast, cover loosely with foil and rest it for 20 minutes before carving.
Tips
Italian herb mix is usually a blend of dried marjoram, basil, rosemary, oregano, parsley and thyme. Use a readymade mix, or make a mix of your own.
Judging your roast's degree of doneness using a meat thermometer: The internal temperature of the meat should be: Rare – 55-60ºC, Medium – 65-70ºC, Well done – 75ºC.
Gently prod or squeeze the roast – rare is very soft, medium rare is soft, medium is springy but soft, medium well is firm and well done is very firm.
Most beef roasts don't need to be tied, but some cuts like rib eye/scotch fillet and eye fillet/tenderloin benefit from it. Tying it gives the beef roast a compact shape, which helps it cook evenly and slice easily.