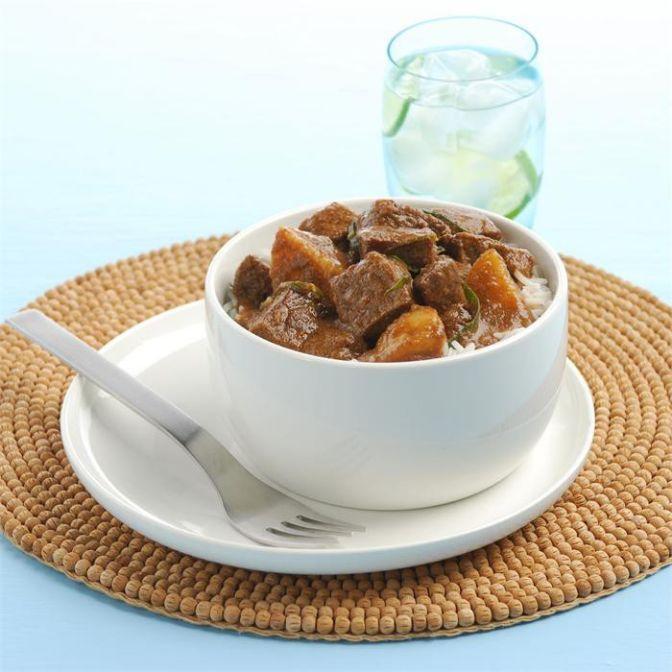 Ingredients
1 kg Beef topside, round or blade
1 Onion, chopped
2 Cloves garlic, chopped
2 tbsp Thai red curry paste
2 1/2 cups Beef stock
400 ml Can coconut milk
1 tbsp Brown sugar
1 tbsp Soy sauce
1 tbsp Fish sauce
2 Kaffir lime leaves (optional)
300 g Baby potatoes, quartered
Steamed rice to serve
Method
Preheat oven to 180°C. Cut beef into 2.5-3cm cubes. Season with salt and pepper and add about 2 tbsp of oil to the beef, mix well. Heat a large frypan over a medium-high heat. Brown the beef in 2 or 3 batches. Remove each batch and place in a casserole dish.
Reduce heat in the pan, add a little oil, add onion, garlic and Thai curry paste, cook for 1-2 minutes and stir occasionally.
Add the stock, coconut milk, brown sugar, soy and fish sauce and lime leaves, stir until the mixture boils. Add to the casserole dish, stir to combine.
Cover the casserole dish, place in oven. Stir every 40 minutes or so, add water if needed to keep the ingredients just covered. Cook until the beef is very tender. Add the potatoes in the last 30 minutes cooking time. Serve with steamed rice.
Tips
When the curry is done, the meat should be tender enough to fall apart easily with a fork
Make the curry ahead for a quick weeknight meal. A curry will keep 2 to 3 days in the refrigerator. Curries should be refrigerated immediately after the steam from cooking has evaporated. Place the hot curry into a shallow container, and then into the fridge so it cools quickly. Do not leave it to cool completely on the bench. To serve, bring it slowly to the boil over a medium heat, reduce the heat and simmer for about 3 minutes, or until the meat and sauce are both thoroughly hot.