Quick lamb, potato and spinach curry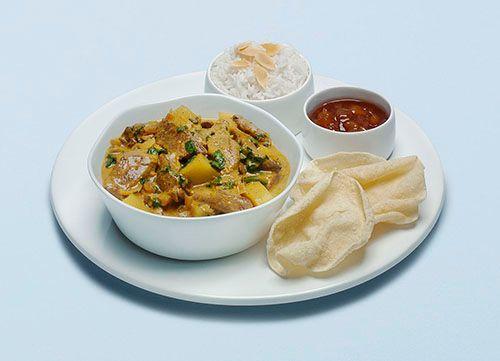 Quick lamb, potato and spinach curry
Ingredients
600g Lamb steaks or lamb eye of shortloin/backstrap
2 tbsp Oil
1 Small red onion, diced
2 Cloves garlic, crushed
4 cm Piece ginger, grated
⅓ cup Korma curry paste
1½ cups Beef stock
2 Medium potatoes, peeled, cut into small dice
250g pkt Frozen spinach, thawed, drained
1/2 cup Plain yoghurt or coconut cream
2 tsp Cornflourp
Toasted flaked almonds, steamed basmati rice, Indian mango pickle or chutney, to serve
Method
Trim lamb and cut it across the grain into thin strips (about 1 cm wide). Add 1 tbsp oil to lamb strips, mix well.
Heat a wok or large frying pan until hot. Cook the lamb in 3 batches. Cook the first side until the first sign of moisture appears on the uncooked side, turn and cook 1 minute more. Remove each batch and set it aside. Reheat pan between batches.
Reduce heat to medium, add remaining oil to the pan, add the onion and cook until soft. Add the garlic and ginger, cook for 30 seconds, add the curry paste and cook, stirring for 1 minute. Add the stock and potatoes, stir to combine and bring to the boil.
Reduce heat to low and simmer for 6-8 minutes or until potatoes are just tender. Stir in the spinach, cook for 2 minutes. Stir in the combined yoghurt or coconut cream and cornflour, simmer for 1-2 minutes. Return lamb to pan and simmer for 1 minute to gently warm. Serve the lamb curry sprinkled with toasted almonds, and steamed basmati rice and Indian pickles on the side.