Quick beef, tomato and mushroom braise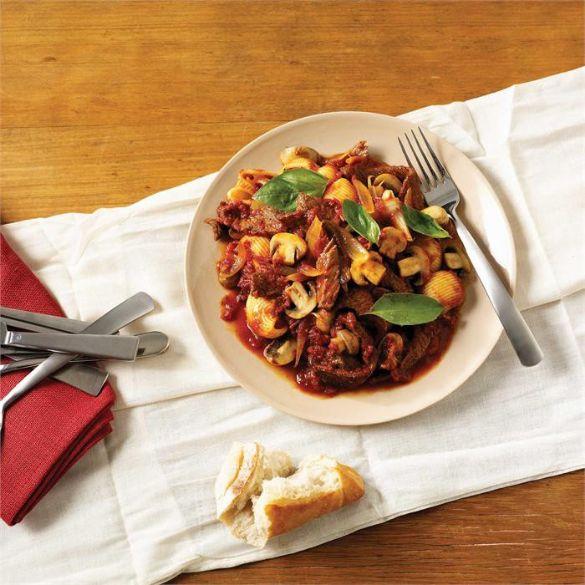 Quick beef, tomato and mushroom braise
Ingredients
1 kg round or topside steak
1 onion, cut into thin wedges
2 cloves garlic, crushed
250 g button mushrooms, halved
500 g jar of bottled tomato pasta sauce
2 tbsp tomato paste
1 cup beef stock
a of pinch sugar
large pasta shells (cooked) and basil leaves to serve
Method
Preheat oven to 180°C. Cut the steaks across the grain into strips (about 1.5cm wide). Season with salt and pepper. Add a little oil to the beef strips, mix well.
Heat a wok or frypan, ensure it is hot. Stir-fry the beef in 3 batches, remove each batch and place it in a casserole dish. Add a little oil to pan, add the garlic and mushrooms and cook for 2 minutes or until mushrooms are golden. Add the tomato pasta sauce, tomato paste, stock and sugar, stir until the mixture boils. Pour over the beef in the casserole dish and stir to combine.
Cover the casserole dish, place in oven, cook 30 to 40 minutes or until beef is tender. Serve with the cooked pasta and sprinkle with basil leaves.
Tips
Brown the meat in small batches as you do a stir-fry. Ensure the pan is hot when you add the meat, it should sizzle when it goes in.
Make sure the casserole simmers as it cooks it must not be allowed to boil or the result will be tough, chewy meat.