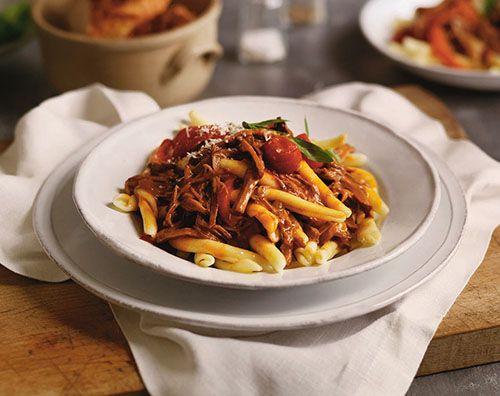 Ingredients
Beef mince sauce
700 Beef mince
1 tbs Olive oil
1 mediu Onion, finely chopped
2 stick Celery, finely chopped
700 Bottle tomato passata
1 cu Beef stock
2 ts Ground cinnamon
1 tbs Dried oregano leaves
Fresh bay leaf
White sauce
90 Butter
½ cu Plain flour
3 cup Milk
1 ts Ground nutmeg
1 cu Grated kefalotyri cheese (or pecorino)
Egg yolks, lightly beaten
To assemble
400 Long tubular macaroni, cooked
2/3 cu Grated kefalotyri cheese (or pecorino)
Egg whites, lightly beaten
1 cu Fresh breadcrumbs
30 Butter, chopped
Method
To make the Beef mince sauce, heat a large frypan, over a medium-high heat. Brown the mince in two batches, set it aside. Add oil to the frypan, add onion and celery, cook 1 minute. Return mince to the frypan. Add the tomato passata, stock, cinnamon, oregano and bay leaf. Bring to the boil, reduce heat to low, partly cover and simmer for 40-45 minutes. The completed sauce should be slightly runny. Remove the bay leaf.
To make the white sauce, heat butter in a saucepan over a medium heat. Add the flour, stir to combine, cook for 30 seconds. Add the milk gradually, then stir constantly until the mixture boils and thickens. Cool slightly, stir in nutmeg, cheese and egg yolks.
To assemble, preheat oven to 180°C. Grease a deep, rectangular ovenproof dish. Mix macaroni with egg whites and cheese. Add half of the macaroni to the baking dish, top with half of the beef mince sauce. Repeat with macaroni and remaining beef mince sauce and then the white sauce. Cook covered for 20 minutes, uncover and sprinkle with breadcrumbs and butter. Cook uncovered for a further 20-30 minutes, or until thoroughly hot. Remove from oven and stand for 10-15 minutes before serving.