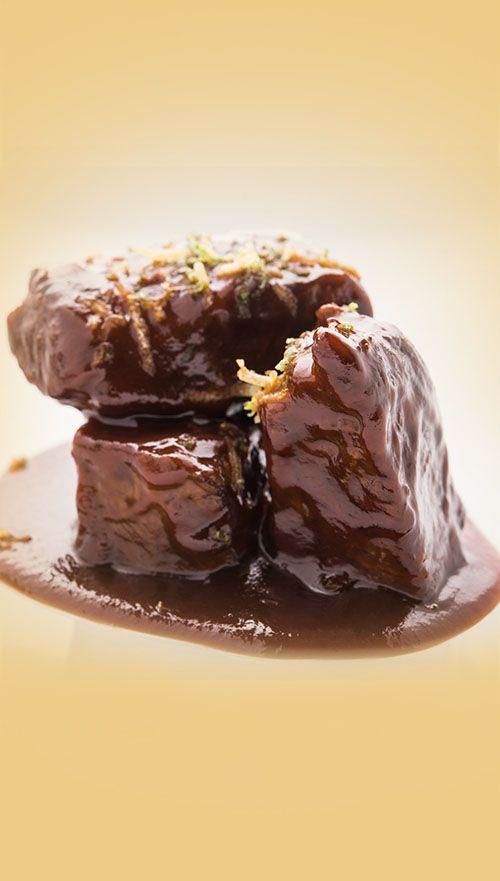 Ingredients
1 kg Oyster blade cleaned
Rub
20g Allspice
4tbsp Salt
30g Celery salt
15g Garlic powder
15g Onion powder
1/2 cup Sugar cane
20g Paprika
1 Clove
20g Thyme
20g Black pepper
15g Hot chilli powder
10g Cinnamon
10g Nutmeg
Marinade
Mix 2.5 cup apple juice with 1 1/3 cup non-alcoholic beer
Glaze
Meat juice from the holding tray
1 cup Ketchup
150g Soft butter
Method
Place all the rub ingredients in a mixing bowl, apply to the meat and refrigerate for 6 hours.
Place the meat in a 100°C degree smoker for ½ an hour.
Place the meat in a large pan.
Cover with marinade half way, cover with lid or aluminium foil. Place in 90C degree oven for 3 hours.
When the meat is very tender remove from the tray. Mix the remaining juice with ketchup and reduce by half to generate a medium consistence glaze. Add soft butter at the end to bind. Keep warm.
Mix some of the glaze with the meat and place in very hot oven for few minutes to allow the glaze to glue on the meat, garnish and serve.