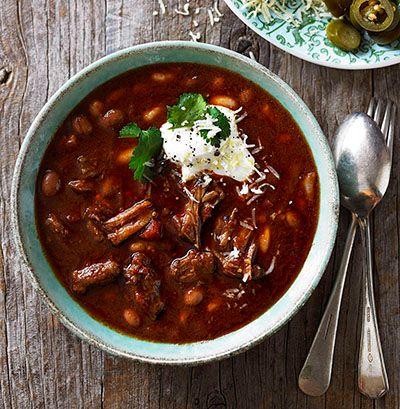 Ingredients
3 kg Beef oxtail, chopped into 5-7cm pieces (ask your butcher)
2 tbsp Extra- virgin olive oil
500ml Salt-reduced beef stock
2 x 400g tins Whole tomatoes, crushed
400 ml Tomato passata
2 tbsp Mexican chili powder
1 tbsp Paprika
4 cloves Garlic
½ tsp Sea salt
½ tsp Cracked pepper
400 g tin Cannellini beans, rinsed
400 g tin Borlotti beans, rinsed Garnish:
125g Light tasty cheese, finely grated
4 tbsp Light greek yoghurt
2 Ripe avocados, sliced pickled jalapenos, to serve
½ bunch Coriander leaves, to serve
Method
Preheat oven to 170°C.
Bring a heavy-based large saucepan to a medium heat and add 2 tbsp oil. Brown oxtail pieces all over in batches, removing to a plate until all pieces are finished.
Place all meat back in the pan and add stock, tomato passata, spices and garlic and bring to a simmer.
Cover in foil and place in oven for 3 and a half hours.
Remove pot from oven, carefully remove the foil and lid ( there will be a lot of steam), remove the oxtail pieces and allow to cool slightly.
Remove the meat from the bones, discarding bones. Return meat to pan along with beans, cover and set aside until beans are warmed and chilli is ready to serve. Serve with Garnishes of choice.