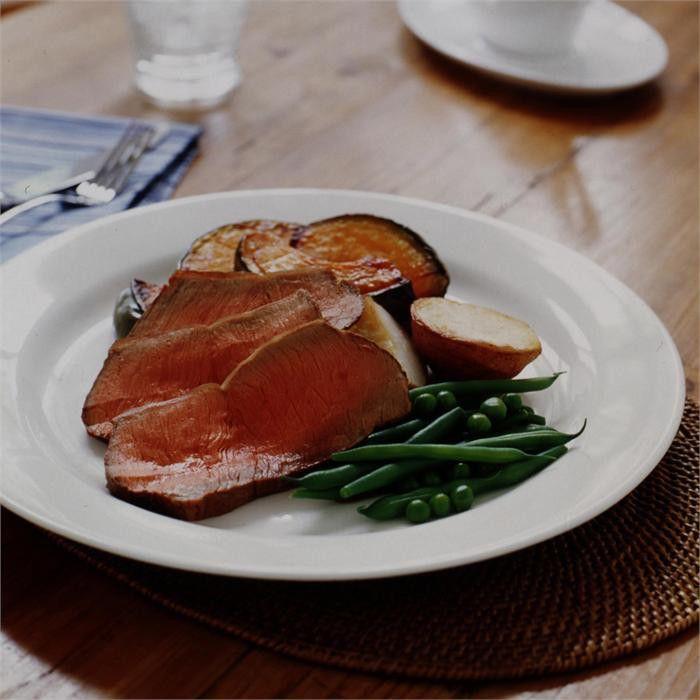 Ingredients
1 kg piece beef sirloin
0.5 bunch fresh thyme
0.5 bunch fresh rosemary
0.5 cup beef stock
roasted vegetables (pumpkin, potato) and green vegetables (peas and beans) to serve
Method
Preheat oven to 200ºC. Brush beef lightly with oil and brown on all sides in a frypan. Season the beef with salt and pepper.
Place beef on a rack in a roasting dish. Combine the herbs, place half under the beef and half on top of the beef. Roast for 40 minutes for rare, 50 minutes for medium and 60 minutes for well done. For ease and accuracy use a meat thermometer.
Remove beef, cover loosely with foil, and rest beef for 20 minutes before carving.
While the beef is resting remove any excess fat from the roasting dish and place the dish over a medium heat. Add the stock and scrape up any meat residue. Bring to the boil and reduce by one third. To serve, slice beef and serve with the vegetables and warm gravy.
Tips
Suggested roasting times per 500g for: Rib eye/scotch fillet, rump, sirloin, fillet/tenderloin, standing rib roast, rolled rib beef roast. Cook at 200ºC. Rare 15-20 min per 500g, Medium 20-25 min per 500g, Well done 25-30 min per 500g.
Judging your roast's degree of doneness using a meat thermometer. The internal temperature for: Rare 55-60ºC, Medium rare 60-65ºC, Medium 65-70ºC, Medium well 70-75ºC, Well done 75ºC.
You can also use tongs to test the roast's doneness. Gently prod or squeeze the roast rare is very soft, medium rare is soft, medium is springy but soft, medium well is firm and well done is very firm.
Use the juices in the roasting dish to baste the roast as it cooks. Two or three times during the cooking time is all that is needed. Add a little stock to the roasting dish if there's only a small amount of pan juices