Moroccan style goat kebabs with lemon couscous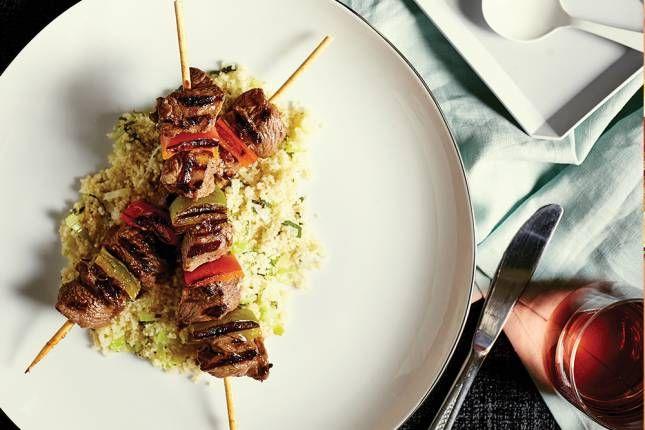 Moroccan style goat kebabs with lemon couscous
Ingredients
1kg Goat rump, diced in 2cm cubes
2 tbsp Olive oil
2 tbsp
1 tbsp Harissa paste
1 tsp Ground coriander
1 Red capsicum, cut into 2cm dice
1 Green capsicum, cut into 2cm dice
Lemon couscous
2 Leeks, thinly sliced
1 tbsp Olive oil
4 tbsp Soft butter
3 cups Vegetable stock
375g Instant couscous
< Grated rind of 1 lemon
2 tbsp Shredded mint
Method
Combine the goat with the oil, lemon juice, harissa and coriander, mix well.
Thread the goat and capsicum alternatively onto metal skewers. Brush each skewer lightly with oil. Preheat the char-grill pan to hot before adding the meat. Let the goat skewers cook on one side until moisture appears before you turn. Cook for 2-3 minutes on each side.
Remove from the heat and cover loosely with foil, rest skewers for 3 min before serving. Serve kebabs with Lemon couscous.
To make Lemon couscous: Cook the leeks in the oil and 2 tbsp of the butter until soft. Place to one side. Bring the stock to the boil with the salt and pour over the couscous. Stand for 10 minutes until the couscous has absorbed the stock. Fluff the couscous with a fork, add the remaining butter. Stir through the cooked leeks, lemon rind and mint.