Moroccan lamb with fruity couscous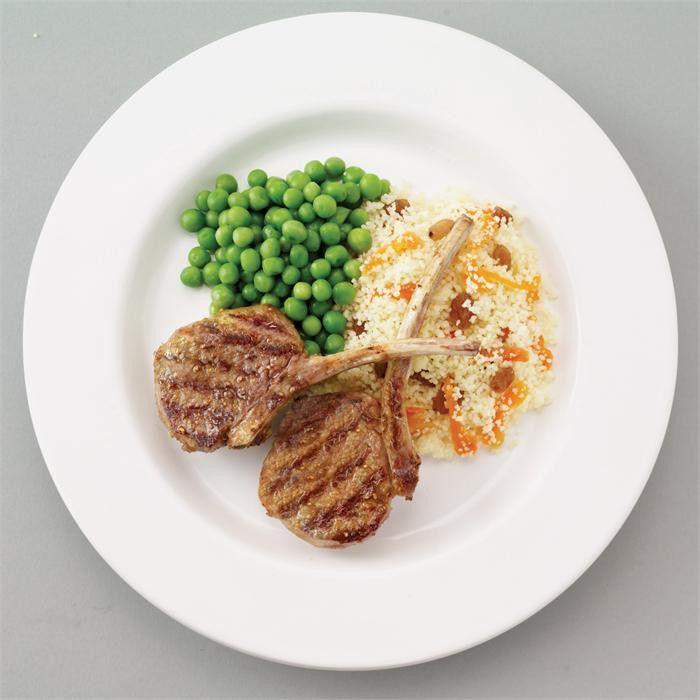 Moroccan lamb with fruity couscous
Ingredients
8 Australian frenched lamb cutlets
2 tsp Moroccan seasoning
1.5 cups instant couscous
1.5 cups boiling chicken stock
10 dried apricots, cut into slivers
0.25 cup sultanas
Method
Brush each cutlet lightly with oil. Season with salt and pepper and sprinkle each with Moroccan seasoning. Preheat the pan or char-grill before adding the cutlets.
Cook cutlets on one side until the first sign of moisture appears on the top. Turn, brush with the lemon juice and cook further until done to your preference. Turn once only.
Remove cutlets from heat, loosely cover with foil and rest cutlets for 2 minutes before serving. Place the couscous in a heatproof bowl and add the boiling chicken stock. Stand for 2 minutes then fluff up with a fork. Stir through the apricots and sultanas. Serve with the cutlets.
Tips
Test lamb cutlets for doneness with the back of your tongs. Rare is soft when pressed, medium is 'springy' and well done is very firm. Rest the meat for a few minutes before serving.
Best lamb cuts for barbecuing, char-grilling or pan-frying; eye of loin/backstrap, tenderloin/fillet, loin chops, cutlets, lamb steaks (round or topside).