Miso-glazed Australian ribeye steak with pomegranate and walnut salsa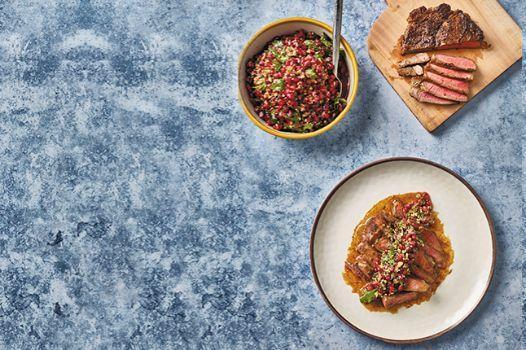 Miso-glazed Australian ribeye steak with pomegranate and walnut salsa
Ingredients
For the Meat:
1kg Australian Beef Ribeye
½ cup/150g Miso Paste
2 packed tbsp Light brown sugar
3 tbsp Unsalted Butter
2 tbsp Sunflower Oil
Salt and Pepper, to taste
For the salsa:
150g Pomegranate Seeds
70g Walnuts, toasted and coarsely chopped
2 tsp Pomegranate Molasses
1 tbsp Olive Oil
2 tsp Apple Cider Vinegar
20g Parsley, finely chopped
Method
Sprinkle salt and pepper over the meat. Rub olive oil on both sides of the meat and then dab with the miso paste. Place the meat in a heated pan; cook for 3-5 minutes on each side. Then, butter-baste the meat for a couple of minutes, remove from heat and allow to rest for 5-6 minutes.
In a bowl, add all the ingredients for the salsa. Mix well together to combine.
Serve at once, with the salsa spooned on top or alongside the meat.