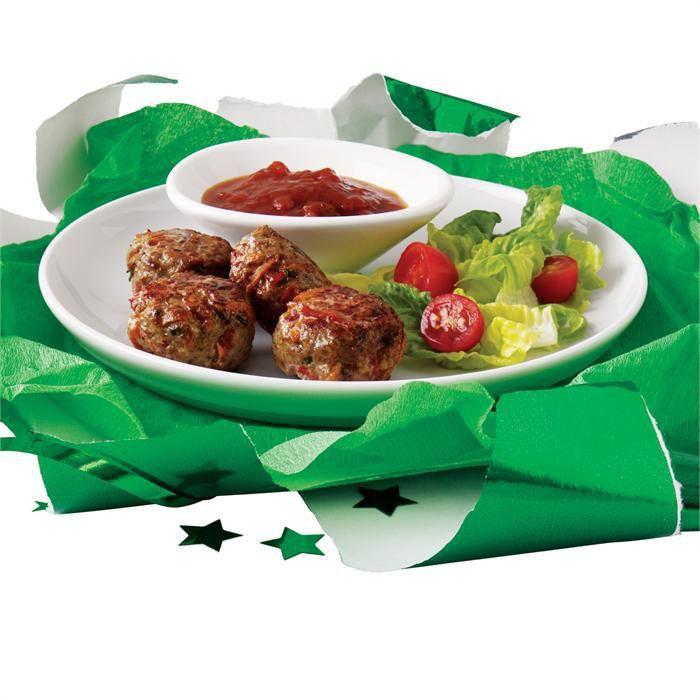 Ingredients
400 g beef mince
1 clove garlic, crushed
0.5 small onion, very finely chopped
1 tbsp chopped parsley
0.5 small red capsicum, finely diced
1 egg, lightly beaten
1 small carrot, grated
tomato chutney or sauce and salad to serve
Method
Place the beef mince, garlic, onion, parsley, capsicum, egg, carrot and a little salt and pepper in a large bowl. Using your hand bring the mixture together and knead lightly until combined
Shape mixture into about 20 small rissoles.
Add enough oil to a medium-sized, heavy based frypan to come one-third of the way up the side of the pan. Heat the oil over a moderately-high heat.
Cook the rissoles in batches over a medium-high heat, until golden and cooked through. Drain on absorbent paper. Allow the oil to reheat between batches.
Serve rissoles with tomato chutney or sauce and salad.
Tips
Rissoles and burgers should always be thoroughly cooked. They should not be served rare or pink. A good guide is to insert a skewer into the thickest part; if it is ready to eat the juices will be clear.
Freeze mince you don't intend to use. Uncooked mince can be frozen for 2-3 months. Rather than freezing loose mince in roundish shape as bought from the butcher lay it out flat to freeze. This is important as it allows the mince to freeze evenly and it allows the mince to thaw evenly. Cooked mince dishes can also be frozen for later use.
Thaw frozen mince (and any meat) in the fridge, on the lowest shelf below and or away from any ready to eat food. And only thaw in the microwave if using the mince immediately thereafter.