Minced Australian lamb and rice in cabbage roll with parsnips in kaffir lime curry broth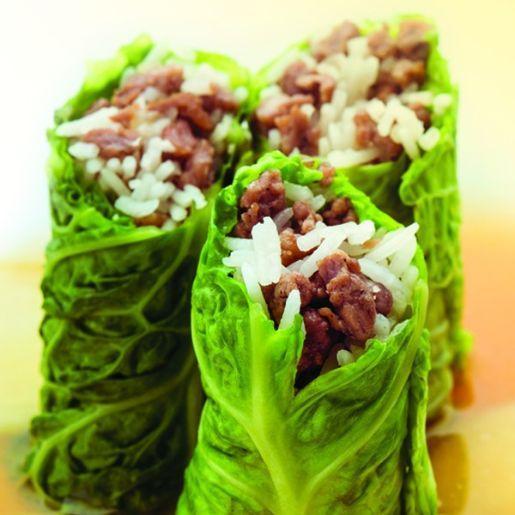 Minced Australian lamb and rice in cabbage roll with parsnips in kaffir lime curry broth
Ingredients
500g Australian minced lamb
12 Large cabbage leaves
1/2 cup basmati rice
1 tea spoon veg oil
2 cups water
2 tbsp butter
2 parsnips peeled
1 quart tomato water
1/2 ounce fresh kaffir lime leaves cut into chiffonnade (very thin slices)
3 tbsp curry butter
Method
Blanch the cabbage leaves in boiling salted water, shock in ice water and pat dry. Lay the leaves flat and with a chef's knife, remove part of the thick white inner core of the cabbage, leaving the leaf intact.
In a medium hot sauté pan add 1 teaspoon oil and sauté the minced lamb until caramelized but not fully cooked about 5 minutes
To make tomato water: Place 5 tomatoes in a blender and puree, then place puree in a cheese cloth or strong coffee filter and place in a strainer with some sort of container underneath to catch all the clear tomato water. The water should not be red it should be clear.
In a medium saucepan, combine the rice with 2 cups of water and 1 tablespoon of the butter. Bring to a simmer and cover for about 40 minutes or until all of the liquid is absorbed. Turn off the heat and let it sit, covered for 10 minutes.
Peel and slice parsnips, into 28 round discs into ¼ inch thick – Finely dice the remaining parsnips. Place in a sauté pan with 1 teaspoon butter and sauté for 3 to 4 minutes. Fold in the cooked rice and season to taste with salt and pepper.
In a small saucepan, bring the tomato water to a simmer. Cut all of the kaffir lime leaves into a fine chiffonnade, reserving 2 tablespoons for the garnish, add the Kaffir leaves to tomato water and steep for 3 to 4 minutes or until the leaves begin to lose their bright green colour. Strain, whisk in the 3 TBS of the curry butter 1 teaspoon at a time, and season to taste with salt and pepper.
Fill each of the cabbage leaves with some of the rice & lamb mixture and roll up, folding in the sides. Place on an ovenproof dish and bake at 350 degrees for 3 to 5 minutes, or until hot. Remove from the oven and cut off both ends.
To make curry butter: In a large bowl mix 1 tbsp of curry powder to 5 tbsp of soft butter then refrigerate and use as needed Sauté the 28 parsnip discs in the remaining 2 teaspoons curry butter for 4 to 5 minutes or until caramelized.
Assembling the Dish: Place 4 of the parsnip discs in the bottom of each bowl. Place three cabbage rolls upright in the centre of the discs. Ladle in the kaffir lime broth and garnish with the chiffonnade of kaffir lime leaves.
Tips
Whilst this is a very easy and elegant dish which is perfect for a special occasion it actually tastes much better the following day so you can make it a day ahead of your event and warm through before serving.