Mexican beef & bean stir-fry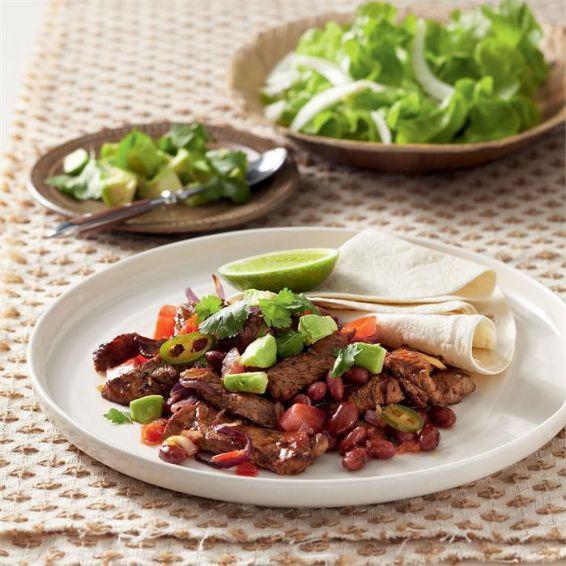 Mexican beef & bean stir-fry
Ingredients
0.5 tsp ground cumin
1 tsp sweet paprika
1 tsp dried oregano
600 g sliced beef strips or sirloin steak
1 tbsp oil
1 red onion, sliced
2 garlic cloves, crushed
400 g can red kidney beans, rinsed, drained
1 mild green chilli, sliced
3 tomatoes, diced
1 ripe avocado, cut into 1 cm cubes
2 tbsp finely chopped red onion
2 tbsp fresh lime juice
1 coriander leaves, coarsely chopped
8 corn tortillas, warmed
1 lime, cut into wedges
Method
Combine cumin, paprika and oregano in bowl. Add beef and toss to combine. Reserve.
Heat half the oil in large frying pan. Cook onion over medium heat until softened. Add chilli and garlic and cook for 1 minutes. Remove from pan.
Heat remaining oil and cook beef in two batches until browned and cooked. Return onion mixture to pan along with red kidney beans, green chilli and tomatoes. Heat through while stirring. Keep warm
In a bowl combine avocado, red onion, lime juice and coriander.
Serve beef with avocado salsa, corn tortillas and lime wedges.
Tips
Always preheat the pan when you are cooking meat to ensure it browns well.
Use a pan that suits the quantity of meat to be cooked so that it doesn't stew in the pan.
Always oil the meat and not the pan so that the oil doesn't burn.