Little meatballs, roasted tomatoes with pesto pasta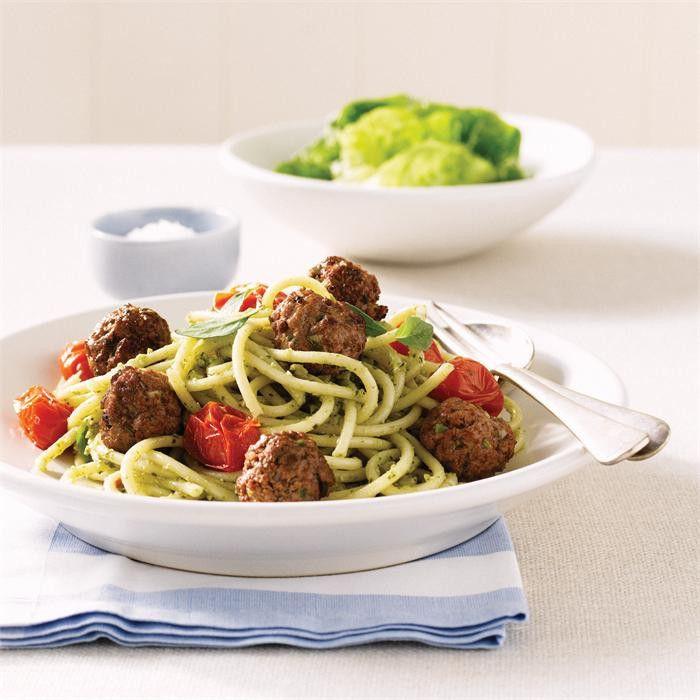 Little meatballs, roasted tomatoes with pesto pasta
Ingredients
400 g beef mince
2 tbsp herb and garlic tomato paste
2 green shallots, finely chopped
250 g cherry tomatoes, halved
500 g pkt spaghetti
1 cup basil pesto sauce
Method
Preheat the oven to 200°C. Place the beef mince, tomato paste, shallots and a little salt and pepper in a large bowl. Using your hand bring the mixture together and knead until combined.
Shape small spoonfuls of mixture into meatballs. Make the meatballs small about 2 teaspoons of mixture for each. Place meatballs on a baking tray along with the tomatoes and lightly spray or brush with oil. Cook for 15 minutes or until the meatballs are golden and cooked through.
While meatballs are cooking, cook pasta. Toss the cooked, drained pasta with the pesto sauce. Serve the pasta topped with the meatballs and tomatoes.
Tips
Freeze mince you don't intend to use. Uncooked mince can be frozen for 2-3 months. Rather than freezing loose mince in roundish shape as bought from the butcher lay it out flat to freeze. This is important as it allows the mince to freeze evenly and it allows the mince to thaw evenly. Cooked mince dishes can also be frozen for later use.
Thaw frozen mince (and any meat) in the fridge, on the lowest shelf below and or away from any ready to eat food. And only thaw in the microwave if using the mince immediately thereafter.