Lemon and thyme easy carve leg of lamb with root vegetables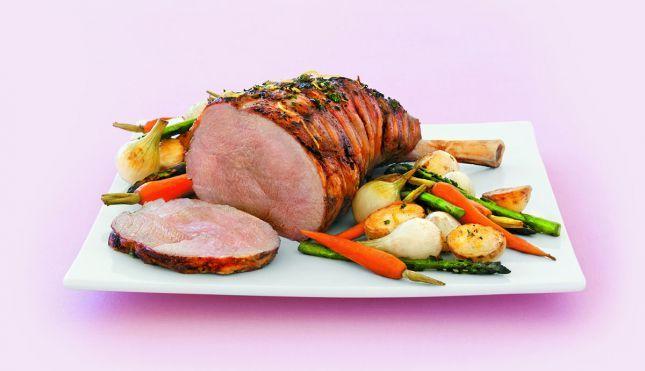 Lemon and thyme easy carve leg of lamb with root vegetables
Ingredients
1.5kg Easy carve leg of lamb
6 tbsp Olive oil
1 tbsp Thyme leaves
Zest and juice of 2 lemons
2 bunches Baby carrots peeled and washed
2 bunches Spring onions, 4cm long with onion bulb attached
12 Baby chat potatoes, halved
2 bunches Asparagus, ends trimmed
Fresh thyme leaves and lemon zest to garnish
Method
Pre-heat oven to 180°C. Mix the olive oil, thyme, zest and lemon juice. Season and spoon half the mixture over the lamb and toss the other half through the vegetables.
Place lamb into a roasting dish and bake for 15 minutes before adding the tossed vegetables and cooking for a further hour. Add the asparagus and cook a further 5 minutes
Rest the meat under foil in a warm place.
Tips
To serve, slice the lamb and serve with the vegetables, scattered with fresh thyme leaves and lemon zest.