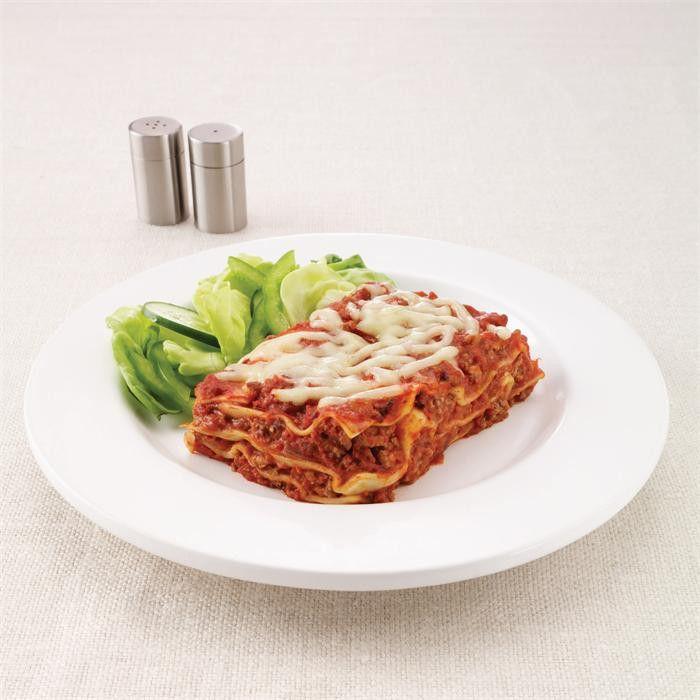 Ingredients
500 g beef mince
1 small onion, finely chopped
1 clove garlic, crushed
0.25 cup tomato paste
400 g can peeled tomatoes
0.5 cup beef stock
1 tsp sugar
1 tsp dried oregano or basil
375 g pkt instant lasagne sheets
500 g ricotta
1 cup grated Parmesan
salad leaves to serve
Method
Place mince in a bowl and mix in a little oil. Heat a large frypan, ensure it is hot. Crumble in half of the mince. Brown the mince, breaking up any lumps with a fork. Remove first batch, reheat pan and cook remaining mince and then remove.
Add onion and garlic, cook until onion is soft. Return mince and add the tomato paste, peeled tomatoes, stock, sugar and herbs. Bring to the boil, reduce heat and simmer for 20 minutes.
Preheat the oven to 180ºC. Alternate layers of meat sauce with the lasagne sheets and half ricotta in a greased lasagne dish. Spread top layer with sauce and then with remaining ricotta mixed with the grated Parmesan. Bake lasagne uncovered for about 30 minutes or until thoroughly hot.
Serve with salad.
Tips
Freeze mince you don't intend to use. Uncooked mince can be frozen for 2-3 months. Rather than freezing loose mince in roundish shape as bought from the butcher lay it out flat to freeze. This is important as it allows the mince to freeze evenly and it allows the mince to thaw evenly. Cooked mince dishes can also be frozen for later use.
Thaw frozen mince (and any meat) in the fridge, on the lowest shelf below and or away from any ready to eat food. And only thaw in the microwave if using the mince immediately thereafter.