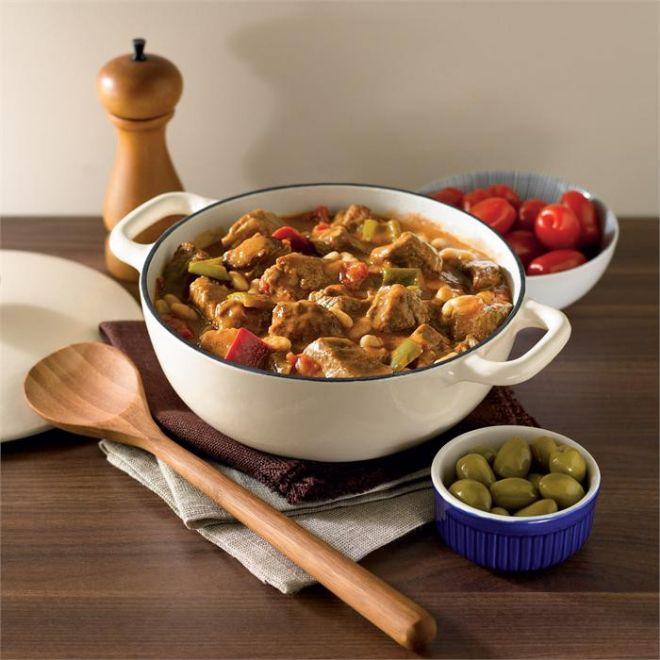 Ingredients
1 kg Chuck or boneless shin/gravy beef
1 Large onion, diced
2 Cloves garlic, crushed
1 Red capsicum, chopped
1 Green capsicum, chopped
2 tbsp Plain flour
2 cups Beef stock
2 tbsp Tomato paste
1 tbsp Dried oregano
400 g Can diced tomatoes
400 g Can cannellini beans, drained
Method
Preheat the oven to 180°C. Cut the beef into 2.5cm-3cm cubes. Season with salt and pepper, add about 2 tablespoons of oil and mix well. Heat a large frypan over a medium-high heat. Brown the beef in 2 or 3 batches. Remove each batch and place in a casserole dish.
Reduce heat in pan and add a little oil. Add the onion, garlic and capsicums, cook for 12 minutes and stir occasionally.
Sprinkle in the flour and stir until the vegetables are coated. Gradually pour in the stock, stirring well. Add the tomato paste and oregano. Pour over the beef in the casserole dish and stir to combine. Cover the casserole dish, place in the oven and cook until the beef is very tender. In the last 30 minutes of cooking time, add the tomatoes and cannellini beans.
Tips
Cooktop method: Place the browned beef and other ingredients in a heavy-based pot. Partially cover, keep the heat low. Simmer until the meat is very tender. Stir occasionally, adding water if needed during the cooking time to keep ingredients just covered. In the last 30 minutes of cooking time, add the tomatoes and cannellini beans.
To cook in a Slow Cooker: Brown the beef well as per the recipe and place in the slow cooker. Place the garlic and capsicum in to the slow cooker with the beef. Blend the flour with the beef stock and tomato paste, add the oregano and diced tomatoes, add to the beef. You may need to add a little beef stock or water if it appears that the liquid does not cover the beef. Cover the slow cooker with its lid, cook on Low Setting for 8-10 hours or the High Setting for 4-5 hours. Stir in the cannellini beans in the last 40 minutes of the cooking time.