Indian style goat curry with mint yoghurt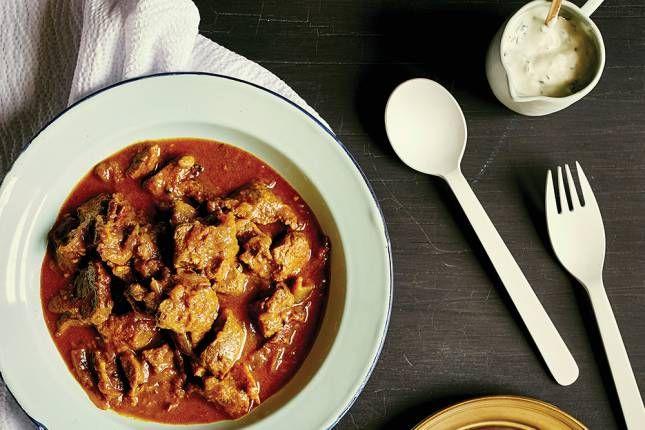 Indian style goat curry with mint yoghurt
Ingredients
1.5 kg Goat leg bone in, di
2 Red onions, sliced
1½ tbsp Garlic, crushed
1 tbsp Ginger
1½ tablespoon Tomato paste
3 Dried bay leaves
1 tsp Cumin seeds
1 Cinnamon stick
6 Green cardamom pods
6 Whole cloves
½ tbsp Turmeric powder
1 tsp Paprika
2 tbsp Curry powder
2 tbsp Green chilli paste
1 cup Natural yoghurt
10 Mint leaves, finely chopped
½ teaspoon Sugar
Method
Heat oil in a casserole dish over medium heat, add the dried bay leaves, cumin seeds, cinnamon stick, cardamom pods and whole cloves and cook until fragrant.
Add the onions and cook until golden brown.
Add the garlic and ginger paste, cook for 1 min then add the ground spices (add 2 tbsp of water to stop the spices from burning). Cook spices until you see some oil separation around the edges.
Add the goat, season with salt and add the green chilli paste. Stir regularly for 5 min or until the meat releases its juices (add a bit of water if the meat does not cover with its juices). Bring to the boil then cook covered for 1 ½ hours.
In the meantime, combine yoghurt, mint leaves and sugar to make the mint yoghurt.
Add the tomato paste and more water if sauce is too thick. Cook for a further 3 – 5 min and remove from the heat.
Serve hot with mint yoghurt.