Herb & pistachio crusted mini lamb rump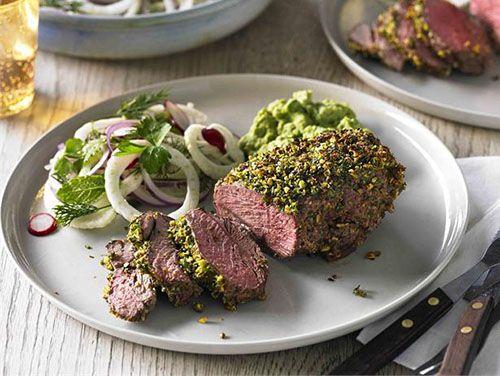 Herb & pistachio crusted mini lamb rump
Ingredients
80ml (1/3 cup) Extra virgin olive oil
4 x 300g Mini Lamb Rump, cap off, trimmed
2 tbs Dijon mustard
¼ cup Finely chopped flat-leaf parsley
2 tbs Finely chopped thyme
1 Lemon, finely grated
70g (½ cup) Roughly chopped pistachios
240g (1½ cup) Shelled peas, blanched
1½ cups Shelled broad beans, blanched
Fennel Salad
3 bulbs Baby fennel, trimmed
1bn Baby red radishes, trimmed
2 small Red onions
½ cup Picked dill fronds
½ cup Picked small flat-leaf parsley leaves
½ cup Small picked mint leaves
1 large Lemon juiced
2 tbs Extra virgin olive oil
Method
Preheat oven to 200°C. Heat a large frying pan over high heat. Add 1 tablespoon of oil and cook lamb, turning for 5 minutes or until browned all over. Transfer to a plate and stand for 10 minutes or until cool enough to handle.
Meanwhile, combine herbs, zest and pistachios in a small bowl and season to taste. Evenly brush tops of rump with mustard and evenly scatter with herb mixture, pressing firmly with your hands to secure crust. Transfer lamb to a large oven tray and roast for 25 minutes or until cooked to your liking. Rest for 10 minutes before serving.
Meanwhile, using a mandolin or sharp kitchen knife, shave fennel, radish and onion into a large bowl. Add herbs, juice and oil; season to taste and toss well to combine. Stand at room temperature until ready to serve.
Process peas and broad beans in a food processor until roughly chopped. Heat remaining oil in a medium frying pan, add crushed pea mixture and cook, stirring, for 6 minutes or until warmed through; season to taste.
Divide crushed pea mixture and fennel salad among plates. Slice lamb into three and place on plates.
Tips
If you do not own a food processor, roughly chop peas and broad beans.
Mandolins are available from supermarkets and specialty food shops.
Substitute fresh peas and broad beans with frozen.
Take the roast out of the oven 15 mins before cooking to allow it to cook evenly.
Use a meat thermometer to check when you lamb is done (medium recommended)
When trimming your fennel, reserve any nice fronds to toss through your salad.
Lamb mini roasts or racks can be used instead of lamb rump.Leave lamb to rest once it comes out of the oven to allow juices to redistribute throughout the roast.
The new lamb roast as roast lamb is no longer a traditional Sunday roast that feeds the whole family and takes hours to cook. You can have a lamb roast on the table in 30 mins using different cut such as the mini roast and the rump roast. These cuts are lean, tender and full of flavour. They are also perfect for two people.