Grilled sirloin, quinoa and pistachio salad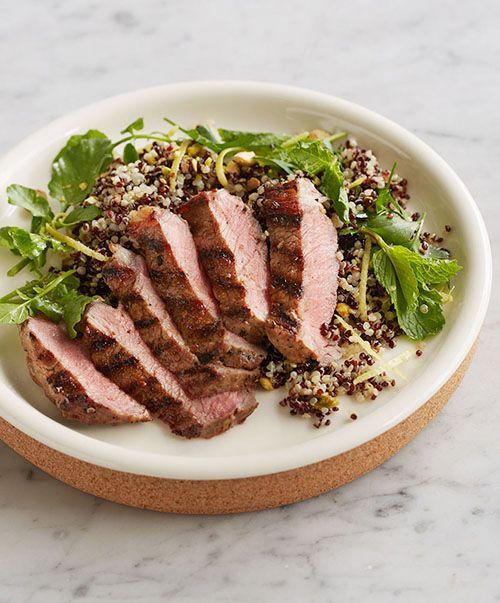 Grilled sirloin, quinoa and pistachio salad
Ingredients
600g Sirloin steak, trimmed
2 tsp Smoky barbeque seasoning
2 cups Cooked quinoa
½ cup Mint leaves
1 cup Flat leaf parsley leaves
2 tbsp Pistachio nuts, roughly chopped
1½ tbsp Lemon juice, plus zest of 1 lemon
2 tbsp Olive oil
Dressed watercress, to serve
Method
Preheat a ridged chargrill or barbeque to moderately high. Brush the steaks with some olive oil and rub well with the barbeque seasoning. Cook for 2 minutes on each side or until cooked to your liking. Set aside to rest on a plate for 5 minutes, covering loosely with foil.
Mix the quinoa with the herbs, nuts, lemon juice, zest and olive oil and season with salt and pepper. Slice the steaks and serve with the quinoa and some dressed watercress.
Tips
For a variation, try replacing the quinoa with cous cous, brown rice or pasta.
Rump steak would work well in place of the sirloin.
Try adding a handful of tinned chick peas or lentils to the quinoa.