Grilled lamb with tahini sauce & pumpkin tabouli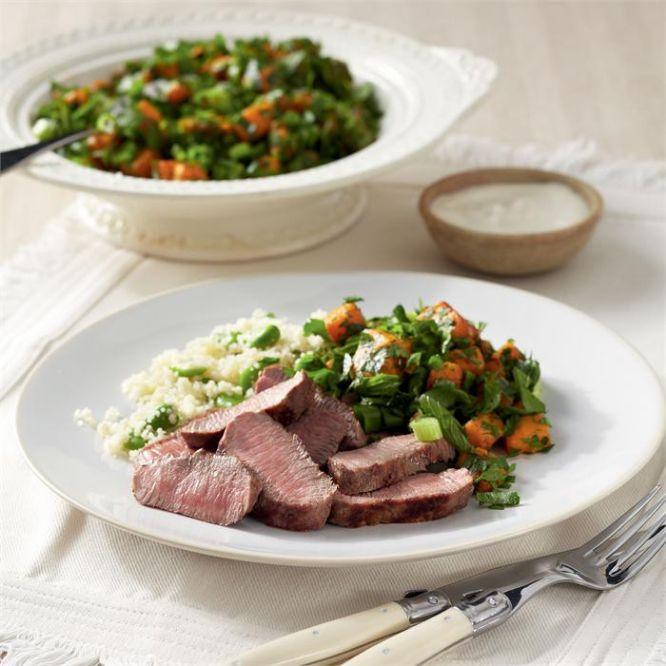 Grilled lamb with tahini sauce & pumpkin tabouli
Ingredients
600 g pumpkin, cut into 2cm pieces
600 g lamb backstrap
2 tsp olive oil
1 tsp dried oregano
1 cup frozen broad beans
1 tbsp tahini
200 g tub Greek style natural yoghurt
3 tbsp lemon juice
1 garlic clove, crushed
1 cup flat-leaf parsley, coarsely chopped
0.5 cup mint leaves, coarsely chopped
2 green shallots, sliced
2 tomatoes, chopped
2 tbsp olive oil
2 tbsp lemon juice
0.5 tsp mixed spice
0.5 tsp cracked black pepper
Method
Preheat oven to 220°C. Line baking tray with baking paper. Place pumpkin pieces on prepared tray and bake in oven for 40 minutes or until tender and golden. Reserve.
Rub lamb with oil and season with freshly ground black pepper. Heat frying pan and cook lamb over high heat for 4-5 minutes on each side or until cooked to your liking. Scatter with dried oregano. Place on warm plate and lightly cover with foil. Rest meat for 10 minutes before slicing.
Place couscous in a bowl and pour over 1 cup (250ml) boiling water. Soak for 2 minutes, fluff up with a fork. Boil, steam or microwave broad beans until hot. Peel off outer skin if desired. Fold into couscous. Keep warm.
Place tahini in mixing bowl. Add lemon juice and stir to combine. (if the tahini is very firm, add 1-2 tbs of boiling water to loosen it). Stir in yoghurt and garlic.
Tips
Don't cut the lamb with a knife to test if it's ready. This will make the juices escape making the meat dry and tough.
Test the meat for degree of doneness with tongs. Use the blunt end of the tongs to prod the meat in the thickest part.
Rare is soft when pressed, medium firm when pressed and well done is very firm when pressed.