Grilled beef sirloin steak, zucchini, sweet potato and rocket salad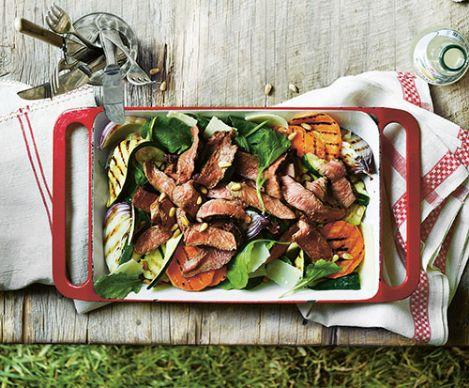 Grilled beef sirloin steak, zucchini, sweet potato and rocket salad
Ingredients
600g Sirloin steak, fat trimmed
3 tbsp Olive oil
350g Sweet potato, peeled and cut into 3mm slices
4 medium Zucchinis, sliced lengthways into 5mm slices
1 Red onion, quartered
2 tbsp Lemon juice, plus grated zest of a lemon
150g Rocket leaves
30g Parmesan cheese, shaved
20g Toasted pine nuts
Method
Preheat a chargrill or barbeque to hot. Brush the Beef on both sides with 2 tsp olive oil and cook for 4 minutes, turning once, or until cooked to your liking. Set aside to rest and cover loosely with foil.
Place the sweet potato, zucchini and onion into a large bowl and toss with 3 tsp olive oil. Place on the grill and cook for 1½ minutes on each side, or until tender and lightly charred.
Slice the Beef thinly and place into a large mixing bowl with the grilled vegetables, lemon juice and zest and remaining oil. Season with salt and pepper and stir to combine.
Place the rocket onto a large serving platter, top with the tossed Beef and grilled vegetables, parmesan cheese and pine nuts, and serve.
Tips
Brush each steak lightly with oil.
Preheat the barbecue to hot before adding the steak. The steak should sizzle as it makes contact with the plate or grill.
Cook one side until the first sign of moisture appears on the upper side, turn and cook the other side. Turn once only for rare and medium.
Test for doneness with tongs. Rare is soft when pressed, medium is springy but still soft and well done is very firm. Remove steak and cover loosely, rest in a warm place for a few minutes before serving.