Green papaya thai-style salad with flank steak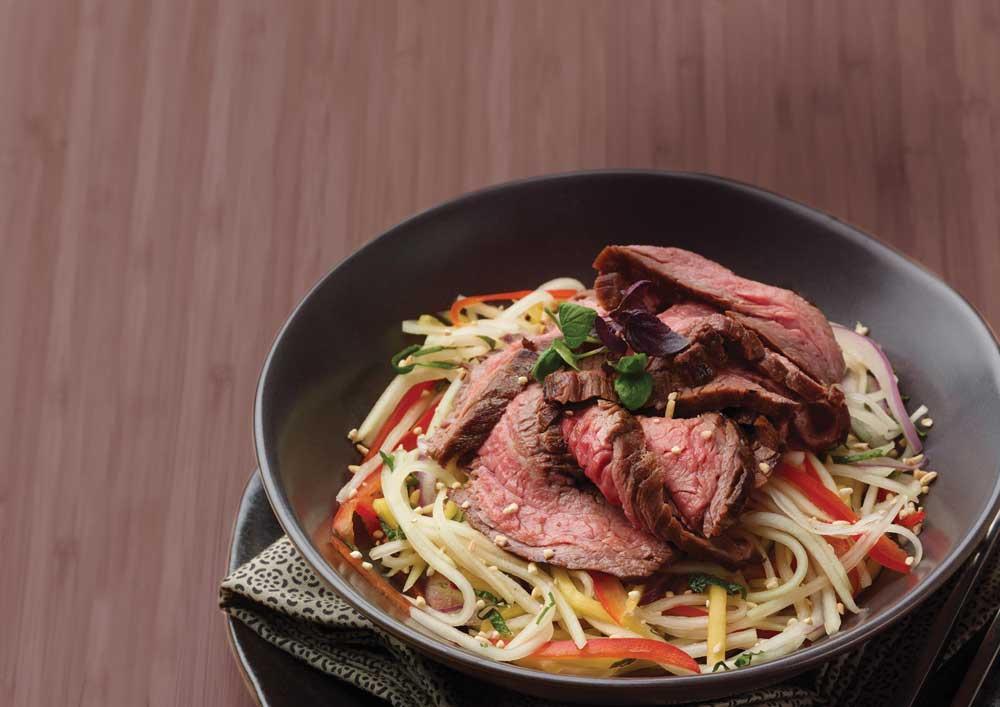 Green papaya thai-style salad with flank steak
Ingredients
For the beef:
1 pound Aussie grassfed beef flank steak
Salt and pepper
Olive oil
For the salad:
1 Green papaya
1 Red bell pepper, thinly sliced
1 cup Cilantro and mint
1 Ripe mango, thinly sliced
½ cup Slivered red onion
Sweet vinaigrette:
2 tablespoons Fish sauce
3 tablespoons Lime juice
½ to 1 teaspoon Palm sugar
1 clove Garlic, minced
Garnish: raw dry basmati rice, toasted and ground
Method
Season the steak with salt and pepper. Sear it to medium-rare and let it rest for 10 minutes. Cut it into slices.
Make the salad: Use a mandoline to shred the papaya. In a bowl, toss it with the pepper, herbs, mango, and onion. In a small bowl, mix together the fish sauce, lime juice, sugar, and garlic. Pour it over the salad and toss to coat.
For each serving, arrange salad in a bowl and top it with 4 ounces flank steak. Garnish with the ground rice.