Green curry with beef, eggplant and thai basil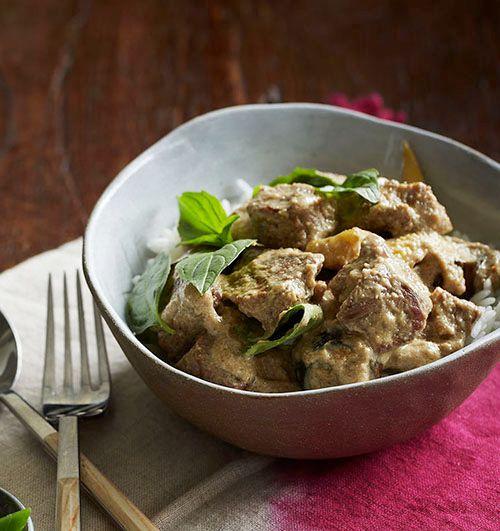 Green curry with beef, eggplant and thai basil
Ingredients
600g Diced beef
2 tbsp Green curry paste
400g Tin coconut milk
2 Long, thin eggplants (Japanese eggplants), cut into 1cm discs
1 punnet Baby corn, halved lengthways
1 tsp Thai fish sauce
2 tsp Sugar
Thai basil leaves, green chilli (optional) and jasmine rice, to serve
Method
Place a large, heavy based pan over a moderately high heat. Toss the meat with some vegetable oil and cook for 4 minutes, or until lightly coloured. You may need to do this in 2 batches.
Reduce the heat to moderate, add the curry paste to the meat and cook until fragrant. Add the coconut milk and bring up to a gentle simmer. Cover with a lid, turn down the heat to low and cook for 45 minutes or until the meat is tender.
Add the eggplant and baby corn and gently simmer for 15 minutes or until the vegetables are tender. Add the fish sauce and sugar and stir in the Thai basil leaves. Serve with jasmine rice.
Tips
Curry pastes vary widely in their intensity, so if you are not using a brand that you are familiar with, try adding it to taste.
To increase the vegetable content, try adding broccoli florets, cubes of sweet potato or some tinned bamboo shoots.