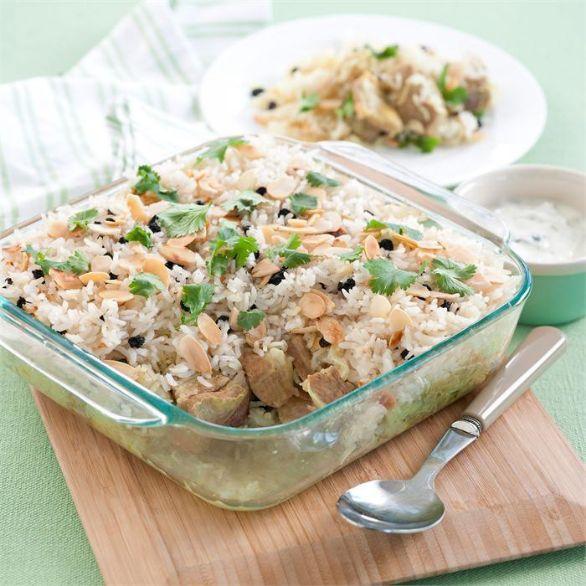 Ingredients
500 g Goat meat (diced, bone in)
0.5 cup Plain yoghurt
1 Onion (sliced)
2 Garlic Clove (crushed)`
3 Cardamom pods (crushed)
1 stick Cinnamon
0.25 tsp Tumeric
2 tsp Butter
2 cup long grain rice
1.5 cup chicken stock
0.5 a juiced and grated lemon
2 tbsp currants
Toasted flacked almonds, to garnish
Coriander leaves, garnish
Yoghurt and mint sambal (to serve)
Method
Place goat meat in a bowl with yoghurt and half the onion. Allow to marinate for at least 3 hours.
Preheat oven to 180C.
Heat a little oil in a large saucepan. Add meat, remaining onion, garlic and spices. Cook on a low heat for 20 minutes.
Melt butter in a separate pan and sauté rice for about 2 minutes. Add stock and lemon rind. Cover and simmer over low heat until rice is semi cooked.
Layer the meat mixture on the base of a baking dish. Top with rice, cover and bake for around 45 minutes to an hour or until meat is tender. Add lemon juice and currants to the rice and mix through lightly with a fork. Cover again and allow to steam for 5 minutes before serving. Sprinkle with almonds and coriander and serve with yoghurt and mint sambal.