Garlicky meatballs tapas style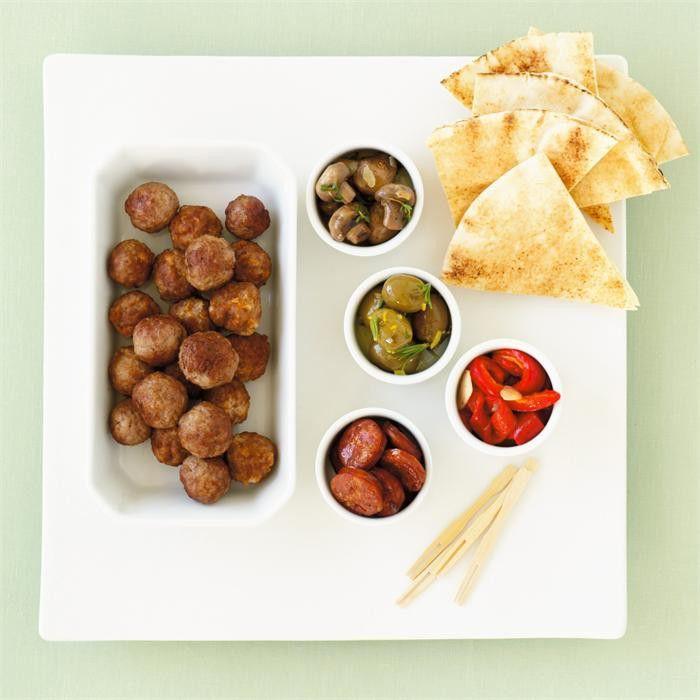 Garlicky meatballs tapas style
Ingredients
400 g lean beef mince
3 cloves garlic, crushed
2 slices thick white Italian-style bread, crusts removed
0.33 cup milk
1 tbsp extra virgin olive oil
finely grated rind and juice of a lemon
1 cup grated Parmesan cheese
chopped fresh basil
olive oil for frying
large green olives, roasted red peppers, marinated mushrooms, chorizo and bread to serve
Method
Place the beef mince, garlic, and a little salt and pepper in a large bowl. Tear bread into small pieces, place in a small bowl, and pour over the milk and olive oil.
Set aside it for a few minutes or until bread absorbs most of the liquid. Mix with a fork. Add the bread mixture, lemon rind and juice, Parmesan, chopped basil, to the beef, using your hand bring the mixture together and knead until combined.
Shape the mixture into meatballs. Make the meatballs small about two teaspoons of mixture for each.
Add enough oil to a medium-sized, heavy based frypan to come one-third of the way up the side of the pan. Heat the oil over a moderately high heat.
Cook the meatballs in batches over a medium high heat, until golden and cooked through. Drain on absorbent paper. Allow the oil to reheat between batches.
Serving suggestion: Serve with meatballs with olives, peppers, mushrooms, chorizo and bread.
Tips
Freeze mince you don't intend to use. Uncooked mince can be frozen for 2-3 months. Rather than freezing loose mince in roundish shape as bought from the butcher lay it out flat to freeze. This is important as it allows the mince to freeze evenly and it allows the mince to thaw evenly. Cooked mince dishes can also be frozen for later use.
Thaw frozen mince (and any meat) in the fridge, on the lowest shelf below and or away from any ready to eat food. And only thaw in the microwave if using the mince immediately thereafter.