Espresso rubbed Australian grass-fed strip steak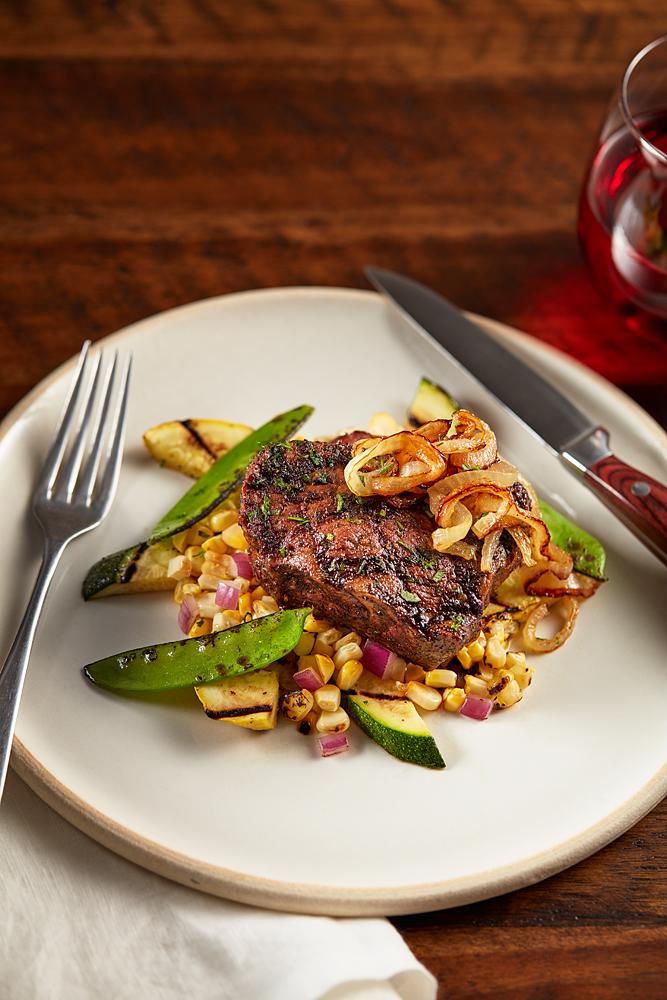 Espresso rubbed Australian grass-fed strip steak
Ingredients
Portion size: 8 oz. of strip steak
Alternate cuts: Grass-fed skirt steak
For the veggies:
¾ cup corn oil
1 ½ lbs. zucchini squash, sliced on bias
2 ½ lbs.
yellow squash, sliced on bias
1 Tbsp salt
2 Tbsp black pepper
1 Cup red onion, diced
3 Cups roasted corn
12 oz. snow peas
1 oz. minced garlic
For the rub:
½ Cup instant ground espresso
2 Tbsp. paprika
2 Tbsp. dark brown sugar
1 Tbsp. dry mustard
1 Tbsp. Kosher salt
1 Tbsp. black pepper
1 Tbsp. dried oregano
1 Tbsp. ground coriander
1 dried Chile de Arbol,ground fine
Method
For the veggies:
Remove husks and silk from corn. One ear should yield 1 cup.
Place on broiler until slightly charred on all sides.Remove from broiler, scrape the roasted kernels off the cob.
Use immediately or store refrigerated at 40° or lower in a covered container.
Incorporate squash, salt and pepper together in a large bowl with oil.
Place on a lightly oiled grill and mark both sides.Once marked immediately spread vegetables on a perforated sheet pan with a solid sheet pan beneath. Leave in cooler.
Once cool incorporate red onions, snow peas and roasted corn. Toss gently.
Portion and store refrigerated at 40°.
To serve:
Place steak on char broil and cook until desired temperature.
While steak is cooking, preheat a sauté pan until hot.
Add portioned vegetables and cook until aroma is apparent and vegetables are at a point just prior to al denté but heated throughout.
Add ½ tsp of garlic, toss and remove. DO NOT MOVE or toss vegetables excessively.
Plate vegetables and steak on a plate, add grilled onions and sprinkle with parsley.