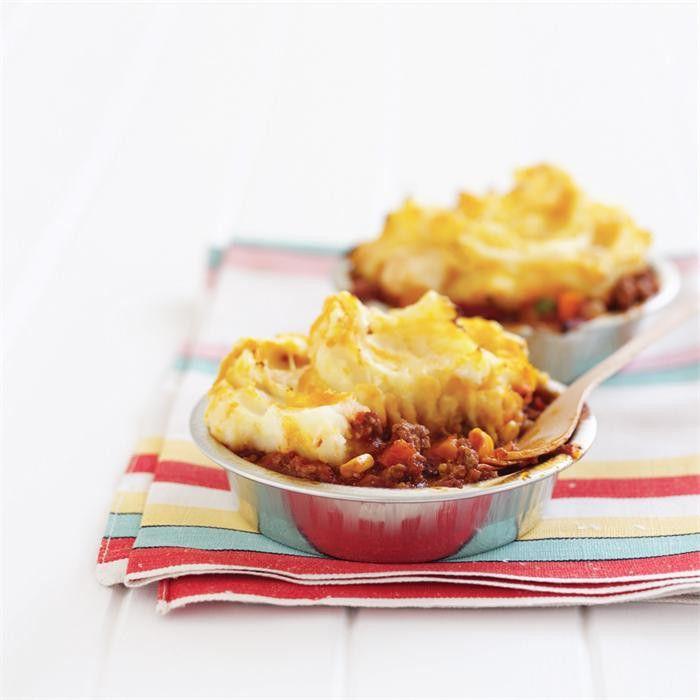 Ingredients
500 g beef mince
750 ml bottle of tomato pasta sauce
2 cups frozen mixed vegetable
mashed potato (4 lge potatoes)
0.5 cup grated cheese
Method
Place mince in a bowl and mix in a little oil. Heat a large frypan until moderately hot, crumble in the mince. Brown the mince, breaking up any lumps with a fork.
Stir in the tomato pasta sauce and vegetables. Reduce heat, cover and simmer the beef mixture for 10 minutes.
Preheat the oven to 180ºC. Combine the mashed potato and cheese.
Spoon the beef mixture into a shallow baking dish. Spoon the mash over the beef, spread it out, and rough the mash up a little with a fork. Cook uncovered for about 20-25 minutes or until thoroughly ho
Tips
Sneak in an extra serve of vegies. Cottage pie is an all-time favourite with kids. It's also a great way to ensure they get an extra serve of vegetables. After browning the mince, add a finely grated zucchini and a good handful of very finely chopped mushrooms. Cook stirring for about 2 minutes before you add the remaining ingredients.
Freeze mince you don't intend to use. Uncooked mince can be frozen for 2-3 months. Rather than freezing loose mince in roundish shape as bought from the butcher lay it out flat to freeze. This is important as it allows the mince to freeze evenly and it allows the mince to thaw evenly. Cooked mince dishes can also be frozen for later use.
Thaw frozen mince (and any meat) in the fridge, on the lowest shelf below and or away from any ready to eat food. And only thaw in the microwave if using the mince immediately thereafter.