Chilli bean, soy and pickled ginger braised oxtail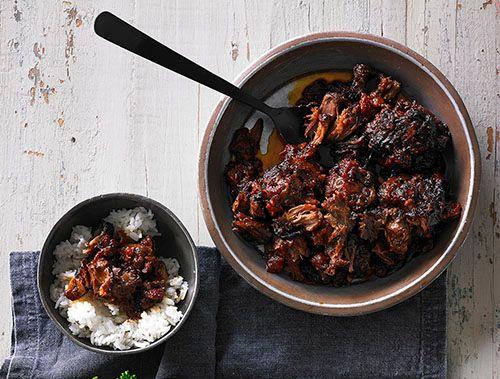 Chilli bean, soy and pickled ginger braised oxtail
Ingredients
1.25 kg Oxtail, well trimmed and cut into 4cm sections
2 tsp Vegetable oil
¼ cup Sugar
1 heaped tbsp Pickled ginger, roughly chopped
4 Garlic cloves, sliced
¼ cup Chilli bean sauce (toban djan)
¼ cup Light soy sauce
2 cups Chicken stock
400g tin Chopped tomatoes
To serve, steamed rice and Asian greens
Method
Preheat the oven to 170ºC. Place a large casserole over a moderately high heat and brown the oxtail pieces in the oil for 8 minutes or until coloured on all sides. Transfer to a plate.
Add the sugar and cook for 2 minutes or until lightly caramelised. Add the ginger and garlic for a few seconds or until fragrant.
Add the oxtail and the remaining ingredients and bring to the boil. Cover and place in the oven for 2 hours or until the meat is very soft. Remove the lid and cook for a further hour or until the meat is falling off the bone. Skim and serve with rice and Asian greens.