Australian chevon rendang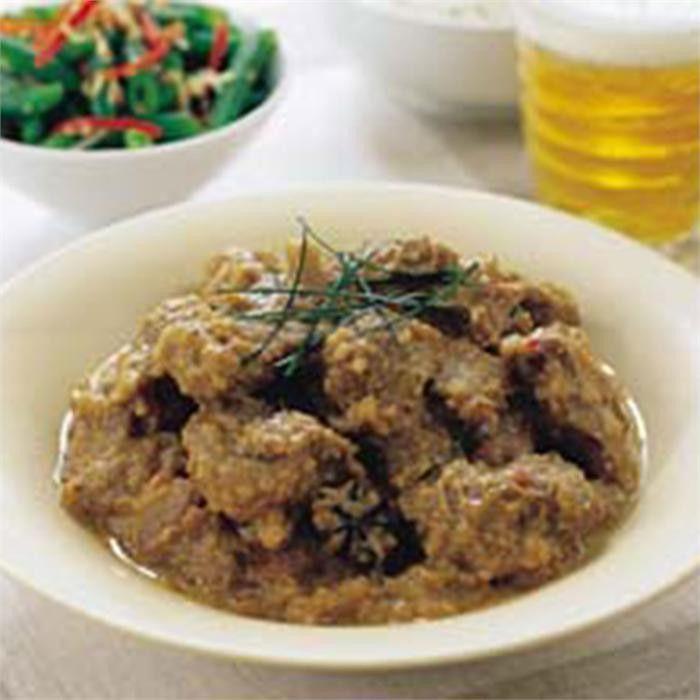 Australian chevon rendang
Ingredients
1.25 kg Australian chevon forequarter
30 g tamarind pulp
0.5 cup of boiling hot water
2 medium onions, sliced
2 tbsp oil
1 cinnamon stick
2 cardamom pods
425ml can of coconut milk
3 kaffir lime leaves
Spice paste
3 cm piece of ginger, peeled and sliced
3 slices fresh galangal, finely chopped
3 lemongrass stalks, chopped
4 red chillies, seeded
3 tsp coriander seeds
3 tsp cumin seeds
cumin seeds
3 cloves garlic, peeled
4 tbsp shredded dried coconut
Method
Cut the chevon into 2.5cm-3cm cubes. Season with salt and pepper, add about 2 tbsp oil, and mix well. Heat a large frying pan over medium-high heat. Brown the chevon in 2 or 3 batches. Remove each batch and place in a heavy-based pot.
Soak the tamarind in the boiling water for 15 minutes. Pour through a fine sieve, discard the pulp and set the liquid aside.
Add the onion and oil to the frypan and cook until onion is soft. Add the spice paste, stir well and cook for 5 minutes. Add the meat and stir. Add the spices, coconut milk and tamarind liquid. Bring to a boil, and then reduce to a simmering point.
Pour mixture over the chevon in the heavy-based pot. Partially cover and keep the heat on low. Simmer for 1½ hours. Stir occasionally; add water if needed during the cooking time to keep ingredients well covered. Slice the Kaffir lime leaves and add to the pot, season with salt within the last 30 minutes.
To make the spice paste: Toast the coriander and cumin seeds over medium heat in dry frypan until fragrant. Place in a spice grinder when cool, and grind to a powder. Place in a food processor along with the ginger, galangal, lemongrass, chillies, garlic and a little water if necessary to blend to a smooth paste. Toast the coconut in a frying pan until golden brown. When cool, place in a spice grinder and grind as finely as possible.
Tips
Simmer the chevon gently and taste it to see if it's ready. When it's done the meat should be tender enough to fall apart easily with a fork.
You could replace the chevon with lamb forequarter.