Char-grilled t-bone steak with cabbage slaw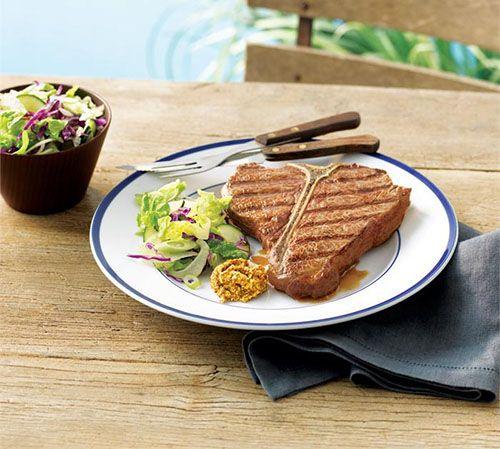 Char-grilled t-bone steak with cabbage slaw
Ingredients
4 T-bone steaks
1 Butter lettuce, torn into small pieces
1/4 small Red cabbage, finely shredded
1 Lebanese cucumber, finely sliced
3 Spring onions, finely sliced
1/3 cup Salad dressing
Seeded mustard to serve
Method
Brush the steaks lightly with oil. Season the steaks with a little sea salt and freshly ground pepper. Preheat the barbecue char-grill to hot before adding the steaks.
Cook on one side until the first sign of moisture appears. Turn the steaks once only. Test the steaks for degree of doneness with tongs. Rare is soft, medium feels springy and well done is very firm.
Remove the steaks from the heat, cover loosley with foil and allow to rest for 2 to 4 minutes before serving. While the steaks are resting, toss together all of the salad ingredients. Serve the salad and mustard alongside the steaks.
Tips
T-bone steaks are the quintessential Aussie BBQ steak. They are tender, rich and flavoursome. A T-bone has a little tenderloin on the smaller side of the bone and sirloin on the other.
Best beef cuts for barbecuing: fillet/tenderloin, rib eye/scotch fillet, sirloin/porterhouse/New York, T-bone, rump. Only buy steaks of an even thickness, not wedge shaped this way they all cook evenly.
Always heat the barbecue before you add the steak. The steak should sizzle as it makes contact with the heat.