Char-grilled sirloin steak with a quick salad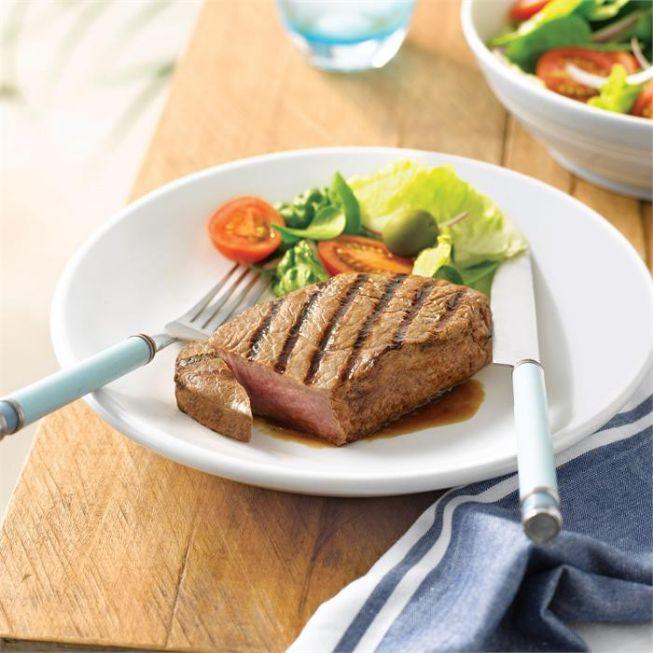 Char-grilled sirloin steak with a quick salad
Ingredients
4 Sirloin steaks
1 Small butter lettuce, leaves seperated
4-6 Small tomatoes, halved a few basil leaves
0.25 cup Green olives
2 tbsp French dressing
Method
Cover the casserole dish, place in oven, and cook until the beef is very tender. Stir every 40 minutes or so, add water if needed to keep the ingredients just covered. Towards the end of the cooking time, add the zucchini and the chickpeas. Cook until the zucchini is tender, and then stir in the coriander. Serve with couscous.
Cook the steaks on one side until the first sign of moisture appears. Turn once only. Test the steaks for degree of doneness with tongs. Rare is soft, medium feels springy and well done is very firm.
Remove the steaks from the heat, loosely cover with foil and allow to rest for 2 to 4 minutes before serving. While the steaks are resting, toss together the salad ingredients. Serve alongside the steaks.
Tips
sirloin steaks have a fine, yet firm texture and are rich in flavour.
Best beef cuts for barbecuing: fillet/tenderloin, rib eye/scotch fillet, sirloin/porterhouse/New York, T-bone, and rump.
Only buy steaks of an even thickness, not wedge shaped this way they'll cook evenly.
Always heat the barbecue before you add the steak. The steak should sizzle as it makes contact with the heat.