Char-grilled African-style steaks with pineapple marinade and spiced beans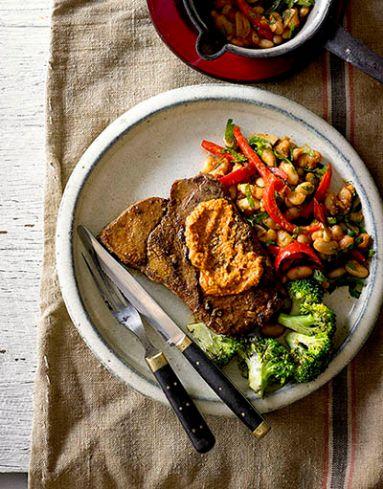 Char-grilled African-style steaks with pineapple marinade and spiced beans
Ingredients
4 x 200g Beef blade steaks, trimmed
1 cup Fresh pineapple, cored and roughly chopped
2 cloves Garlic, peeled
¼ cup Peanuts
1 tbsp Smoked paprika
2 tbsp Sunflower oil
1 Broccoli head, cut into florets
Spiced beans
1 tbsp Extra virgin olive oil
1 clove Garlic, sliced
1 Red capsicum, sliced
1 x 400g can Cannellini beans, drained and rinsed
1-2 tbsp Lemon juice
1 tsp Smoked paprika
¼ cup Chopped flat-leaf parsley
Method
Place the blade steaks on a tray while you make the marinade.
Place the pineapple, garlic, peanuts, paprika and 1 tablespoon of oil into a blender or food processor, and blend to a smooth paste. Spoon half the marinade over the steaks and marinate for 30 minutes in the fridge. Reserve the remaining marinade for serving.
Blanch broccoli in boiling water for 1 minute, then refresh in iced water. Drain and char-grill for 1-2 minutes on each side.
For spiced beans, heat the oil in a frying pan over low-medium heat and cook the garlic for around 1 minute, until fragrant but not brown. Add the capsicum and cook for 2-3 minutes, and then add the beans, lemon juice and paprika and toss to warm through. Season to taste and fold the parsley through before serving.
Heat 1 tablespoon of oil in a large frying pan and cook the steaks for 3 minutes each side for medium. The mixture will catch a little in the pan, but it makes a delicious crust on the beef.
Tips
For a more textural marinade, finely chop the ingredients or pound them in a mortar and pestle.
To save time, drain a tin of pineapple instead of using a fresh one.
Try swapping the blade steaks for rump, sirloin or veal schnitzels.