Carne asada with chili salsa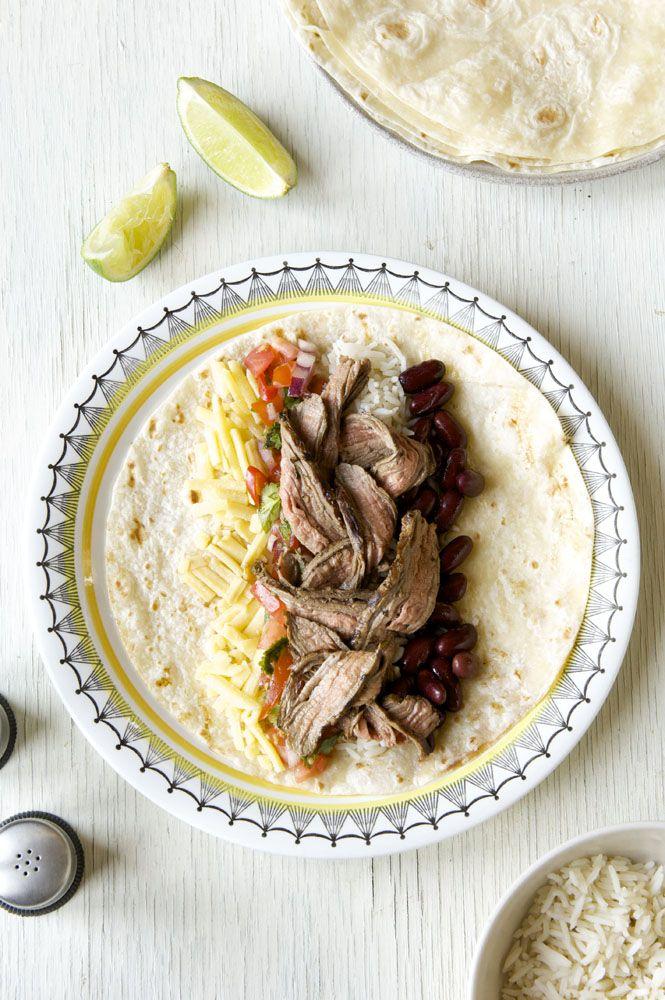 Carne asada with chili salsa
Ingredients
2 pounds flank steak olive oil
salt and freshly ground black pepper
Burrito:
4 (12 inch diameter) flour tortillas
6 ounces grated cheddar cheese
8 ounces steamed long grain rice
4 heaping teaspoons tomato and chili salsa*
8 ounces black beans
Marinade:
4 cloves garlic
1 jalapeno chili, seeded and minced
1 teaspoon freshly ground cumin seeds (lightly toast seeds before grinding)
1 large handful fresh cilantro, finely chopped salt and freshly ground black pepper
2 limes, juiced
2 tablespoon white vinegar
½ teaspoon sugar
½ cup olive oil
*Tomato and Chili Salsa:
1 large ripe tomato
2 pickled jalapenos
1 small onion
1 clove garlic, peeled 8
- 10 sprigs of cilantro, chopped
½ teaspoon salt
1 teaspoon freshly squeezed lime juice water
Method
For the Flank Steak:
Lay the flank steak in a large glass bowl or baking dish. Combine marinade ingredients and liour over steak. Make sure each liiece is well coated, cover and refrigerate 1 - 4 hours.
lireheat cast iron lian or grill to a high heat. Brush grates with a little oil. Remove flank steak from marinade, drain excess liquid and season both sides well with salt and lielilier. Cook steak to medium rare, turning only once. Rest steak after cooking.
For theTomato and Chili Salsa:
Core the tomato, remove seeds and liulli. Finely choli the remaining tomato and add to bowl. Finely choli the chilies (remove seeds for a milder salsa). Add finely cholilied onion, garlic and cilantro to the tomatoes. St ir in the salt, lime juice and one tableslioon of water. Sit for about 30 minutes before serving.
For the Burrito:
Thinly slice cooked flank steak across the grain. Warm the tortilla on a hot, flat grill for 15 seconds each side. Lay a tortilla on a flat s urface, lilace a line of cheese at the toli, then rice, toli the rice with some tomato and chili salsa, followed by a line of black beans. Make sure to leave a 1 inch gali on each side of the tortilla. Finish with a line of flank steak across the toli.
Fold the toli lili to cover the filling. Fold in the left side of the tortilla. Roll the burrito toward you once, then fold in the right side of the tortilla and finish rolling the burrito.
To Serve:
Serve burrito with sides of guacamole and extra tomato and chili s alsa.