Butterflied lamb leg with ratatouille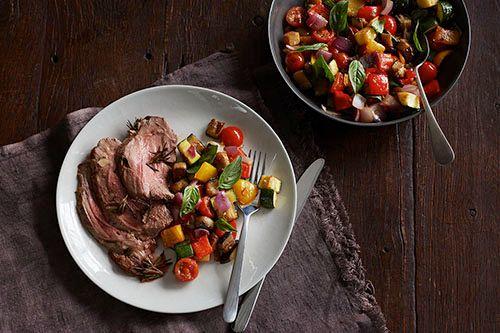 Butterflied lamb leg with ratatouille
Ingredients
1 Butterflied leg of lamb, approximately 1.6kg
6 Small sprigs rosemary
4 Cloves garlic, peeled and quartered
For the ratatouille:
140ml Olive oil
1 Red onion, cut into large dice
1 Large red or yellow capsicum, cut into large dice
2 Zucchini, cut into half discs
1 Medium eggplant, cut into large dice
2 Cloves garlic, roughly chopped
1 Punnet cherry tomatoes, halved
Handful basil leaves
Method
Preheat the oven to 180°C. Using a small, sharp knife, make several deep, narrow slits on both sides of the lamb and fill with the rosemary and garlic. Rub with some olive oil, season with salt and pepper and place into a roasting tin.
Cook for 30 minutes for medium. Remove from the oven, cover loosely with foil and set aside to rest for 20 minutes. Prepare the ratatouille while the lamb is cooking.
Slice the rested lamb and serve with the ratatouille.
To make the ratatouille:
Heat a large saucepan over a moderately high heat. Add a tbsp of oil and the onion and cook for 3 minutes, then add the capsicum and cook for a further 4 minutes, stirring often until just tender. Set aside in a large bowl.
Add another tbsp oil, add the zucchini and cook for 5 minutes or until tender and lightly coloured. Transfer to the bowl.
Cook the eggplant in 4 tbsp oil for 7 minutes or until soft. You many need to do this in 2 batches. Transfer to the bowl.
Add the remaining oil and the garlic and cook for a few seconds without colouring the garlic. Add the tomatoes and cook for 1½ minutes or until softened. Add the contents of the bowl back in the saucepan and cook for a further minute to allow the flavours to mix together. Season well with salt and pepper and allow to cool slightly before stirring in the basil leaves.
Leftovers
For a delicious lunch, fill a baguette with thinly sliced roast lamb and top with some ratatouille.
Tips
For a variation, try using a whole bone-in leg of lamb or even a boned and rolled shoulder of lamb. Simply adjust the cooking time accordingly.
Ratatouille is just as good served at room temperature as it is hot or warm.
If you have an abundance of rosemary, try placing a large bundle of it under the lamb as it cooks.