Boneless lamb shoulder roast with crushed kipflers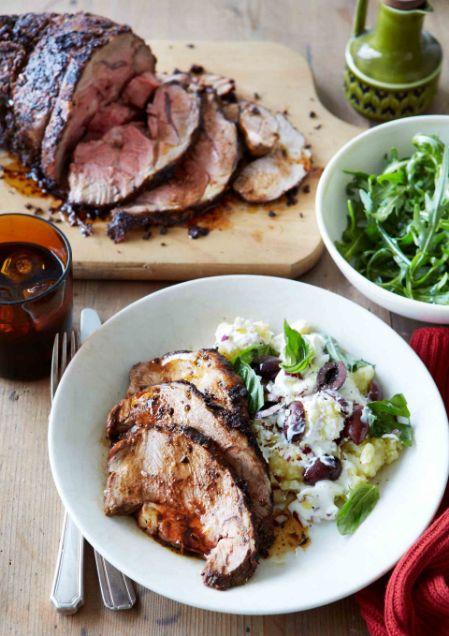 Boneless lamb shoulder roast with crushed kipflers
Ingredients
1.2kg Boneless Lamb shoulder roast, fat trimmed, trussed*
60ml (1/4 cup)Extra virgin olive oil
1 tbsp Sweet paprika
2 tsp Smoked paprika
3 Cloves Garlic, crushed
2 tbsp Finely chopped marjoram
2 tbsp Finely chopped tarragon
wild rocket salad, to serve
SMASHED KIPFLERS
700kg Kipflers, washed
190g (2/3 cup) Natural Greek-style yoghurt
75g (1/2 cup) Seeded kalamata olives, drained, halved
1/4 cup Firmly packed basil leaves, finely shredded
1 Small red onion, finely chopped
Method
Preheat oven to 180C. To roast the boneless lamb shoulder, place oil, spices, garlic with herbs in a large bowl and stir to combine. Add lamb and using your hands, rub well to coat. Transfer lamb to a large roasting pan with a roasting rack. Pour any excess marinade left in bowl over the lamb and season liberally with salt and pepper. Roast for 1½ hours or until cooked through to your liking. Rest for 10 minutes before carving to serve.
Meanwhile, to make crushed kipflers, boil, steam or microwave kipflers until tender. Drain and place in a large heatproof bowl. Using a potato masher or fork, coarsely crush kipflers until smashed but still chunky. Stir in remaining ingredients until combined. Season to taste.
To serve, divide smashed kipflers among four plates, top with carved lamb and serve with baby wild rocket salad.
Tips
Omit the yoghurt if desired and substitute with freshly squeezed lemon juice and olive oil.
Get your local butcher to truss you boneless lamb shoulder roast.