Black bean braised beef with asian mushrooms and ginger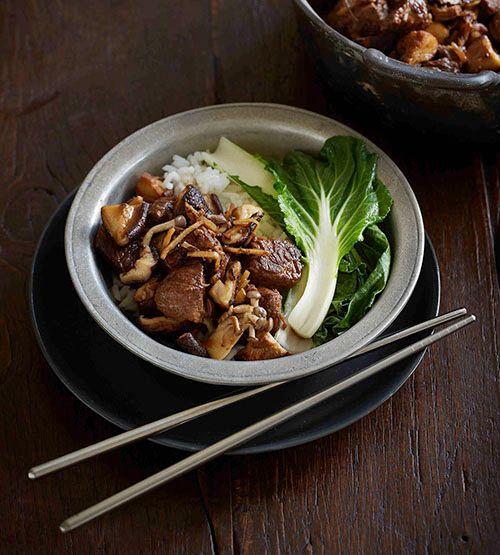 Black bean braised beef with asian mushrooms and ginger
Ingredients
600g Chuck steak, trimmed and diced
1 tbsp Salted black beans, soaked in warm water for 5 minutes
150g Asian mushrooms, trimmed
Thumb sized piece ginger, cut into fine matchsticks
1 cups Salt-reduced beef stock
1 cup Chinese rice wine
2 tsp Sugar
Rice, sliced spring onions, coriander and Asian greens, to serve
Method
Preheat the oven to 170°C and place a casserole over a high heat. Coat the beef with some vegetable oil and cook 5 minutes or until coloured. You may need to do this in 2 batches. While the beef is cooking, rinse and squeeze dry the soaked black beans and mash roughly with a fork.
Add the mushrooms and ginger to the beef and cook for 30 seconds, scraping up any sticky bits with a wooden spoon. Add the black beans, stock, rice wine, sugar and ½ cup water and bring up to the boil. Place the lid on the pan and bake for 2 hours, or until the meat is very tender.
Serve with rice, sliced spring onions, coriander and Asian greens.
Tips
You can cook this dish a day ahead and gently reheat to serve.
Try replacing the Asian greens with a crunchy raw salad, such as an Asian coleslaw.