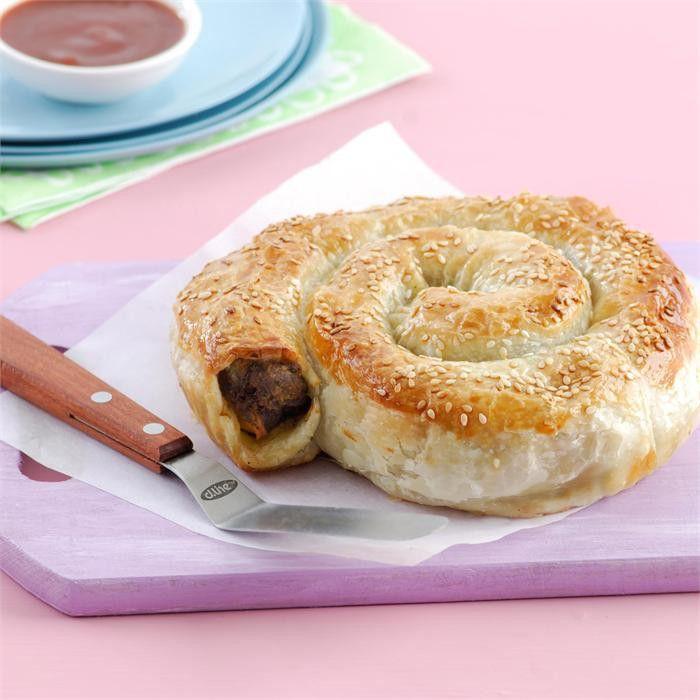 Ingredients
250 g beef mince
1 medium carrot, grated
1 tbsp chopped parsley
0.25 cup dried breadcrumbs
2 tsp tomato sauce
1 ready rolled sheet puff pastry
1 egg beaten
1 tsp sesame seeds
1 foil pie dish, 140mm diameter
Method
Preheat fan forced* oven to 200°C.
Combine beef, carrot, parsley, breadcrumbs and tomato sauce. Spray foil pie dish lightly with oil.
Cut sheet of pastry in half. Place 2 rectangles of pastry side by side with short edges slightly overlapping, to form a long rectangle 120mm x 480mm.
Roll beef into a long sausage 20mm diameter, place along long edge of pastry and roll carefully to fully enclose filling.
Beginning at one end, gently roll pastry to form a spiral. Place in prepared foil pie dish. Brush with beaten egg and sprinkle with sesame seeds.
Bake twister, in foil pie dish, on baking tray for 25 30 minutes until pastry is golden brown and filling cooked through.
Recipe note: *if using a conventional oven, you may need to increase temperature or allow additional cooking time.
Tips
Serve with extra tomato sauce.