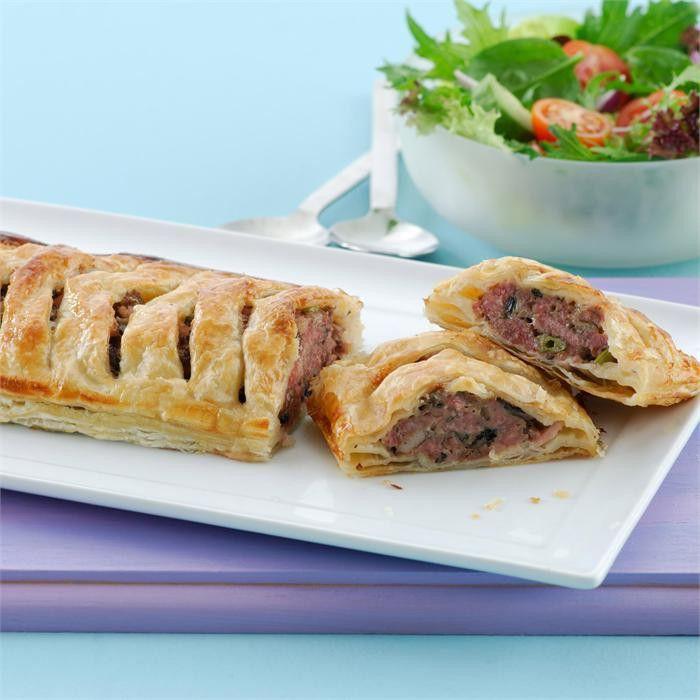 Ingredients
250 g lean beef mince
50 g bacon, chopped
50 g button mushrooms, chopped
4 spring onions, chopped
50 g grated tasty cheddar
0.25 cup dried breadcrumbs
2 sheets butter puff pastry
1 egg, beaten
Method
Preheat fan forced* oven to 200°C.
Line baking tray with baking paper.
Line baking tray with baking paper.
Take one sheet of puff pastry. Cut in half lengthways. Cut 2 x1cm strips from the long edge of one piece of pastry leaving a 100mm wide strip. Place this strip of pastry on baking tray. Lightly brush long edges with beaten egg and top with thin strips of pastry.
Top with half beef mixture. Brush edges with beaten egg.
Fold remaining piece of pastry in half lengthways. Leaving a 2cm border, cut 3cm slits, 2cm apart along folded edge.
Unfold pastry and place on top of beef filling, gently pressing edges to secure. Brush top with egg. Repeat with remaining sheet of pastry.
Bake strudel on baking tray lined with baking paper for 25 - 30 minutes until pastry is golden brown and filling cooked through.
Recipe note: *if using a conventional oven, you may need to increase temperature or allow additional cooking time.
Tips
Serve with your favourite tomato chutney and a crisp green salad.