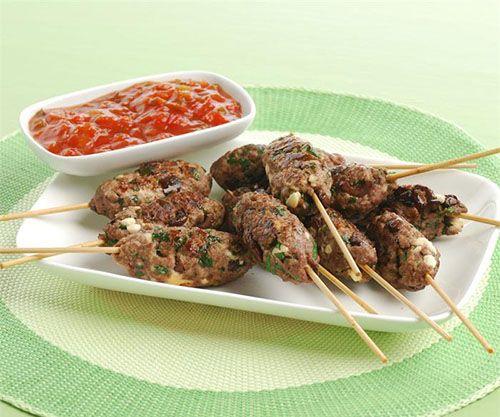 Ingredients
8 Bamboo skewers, soaked in water for 30 minutes
600g Beef strips (or cut sirloin steak into strips)
4 Green shallots, ends trimmed and cut into 3cm lengths
1 tbs Honey
1 tbs Soy sauce
2/3 cup Peanut sauce, warmed
Carrot and cucumber ribbons to serve
Method
Divide the beef into 8 portions. Thread the strips of beef lengthways onto the bamboo skewers alternating with the pieces of green shallot.
Warm the honey in the microwave or a small saucepan and combine with the soy sauce. Drizzle over the skewers.
Grill, barbecue or pan fry for 3-4 minutes on each side or until cooked.
Serve with the warm peanut sauce, carrot and cucumber ribbons.
Tips
Make cucumber ribbons using a vegetable peeler to slice lengthways along a cucumber.